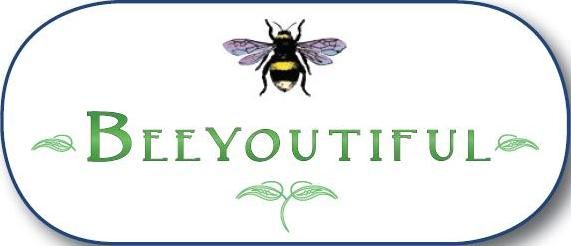 ♫♪ You are so beautiful ♫♪
To me
You are so beautiful
To me
Can't you see
You're everything I hoped for
You're everything I need
You are so beautiful
To me
♪♫♪♫♪♫♪♫
That's one of those songs that I sing to my wonderful wife and children periodically. It's one of those old songs that stick in my head and I often find myself whistling or humming the tune. It reminded me of the great line of products that we have been using lately. But, in that case, it should be "You are so Beeyoutiful" to me because the line of products is from the great company
Beeyoutiful
. We reviewed this great company of natural health care products a couple of years ago and loved it. Back then we were given a product called Tummy Tuneup to use. Click here to get to that review.
For a long time now, my family has been trying to live healthier. I've blogged about it, here on Families Again and talked about it personally to many people. We don't go overboard, or spend lavishly, but we do our best to eat right and use natural, healthy products. Beeyoutiful is one of those companies that we turn to when looking for one of those natural products to use. I don't usually cut and paste something from a companies website to use in my reviews, but I really liked this statement from the BeeYoutiful website and I don't think I could say it better myself. Here it is:
At
Beeyoutiful.com
, we believe that each individual is responsible for their own health. It is not a doctor's responsibility to keep you in good health. Instead they are a tremendous resource, especially for those times when urgent care is required. But, they are only one of many resources. And the tools they use, while powerful, are not the only tools available. But a tool is worthless unless one knows how to use it.
I really like that motto, and it speaks to what we have really attempted to do in our household. And, when you look at it, healthy, natural preventive care is a lot cheaper than expensive medical care. And, what I like about Beeyoutiful, is that it really attempts to use all natural - all healthy ingredients in their products. I'm tired of putting unnatural yucky stuff on my body or, worse yet, inside of my body.
This year, instead of Tummy Tuneup, we were sent two fantastic products that worked great as well.
B.A.L.M.: Beeyoutiful All-natural Lip Balm - In our house, chapped lips during the winter - well, really during any time of the year - is a big problem. We are constantly buying some type of lip ointment for our kids lips. Well, while it's hard to put a lot of unnatural, unhealthy ingredients in a lip balm, there still can be some food coloring or some "not too good for you" ingredients in some of the mass produced products. Remember, Beeyoutiful uses natural ingredients in their products. We got the peppermint lip balm this year and loved it. Joshua had a case of really bad chapped lips and this was just the trick. He loved the taste and, as we are used to with Beeyoutiful's line of products, it worked quickly and efficiently.

Ow!- Ease: Okay! You know that we have three boys. Three rambuncious boys. Three rambuncious boys that love to do things like wrestle, sword fight with sticks, chase each other, get angry with each other and throw fists periodically (What! The Tinkel boys throw fists!!! Never!
). Anyway, I think you get the picture. Well, along with all of this energy comes frequent bruising and tears. Guess what other product we received in the mail from Beeyoutiful? Ow!-Ease! I never would have guessed that a nifty little product like this would work. It comes in a fat tube, kind of like a lip balm tube but much bigger and fatter. All you do is just rub a little of this product on the injured area and, Voilà, the pain goes away. And it speeds up the healing. Ow!-Ease is not just for bruises, though. It also works on sprains, strains, torn muscles, etc. Right after we got our tube of Ow!-Ease in the mail Jacob fell and bruised himself. I opened up our handy-dandy tube, rubbed it on, and never heard another complaint out of him. It worked!
We are really sold on Beeyoutifuls products. Their All-natural lip balm sells for $3 a tube and the Ow!-Ease can be purchased for $15 a tube. Some of the other TOS Crew members received other Beeyoutiful products that I am a little jealous about. I would have liked to have tried the Tension Tamer, Miracle Skin Salve or Berry Well. Want to find out what they are? Just click
here
or on any one of the hi-lighted links above to get to the Beeyoutiful website, or click
here
to get to the reviews that the other TOS Homeschool Crew members wrote. Happy Healing - or, hopefully - Happy Preventive Healing!
As a member of the TOS Homeschool Crew I was sent a free tube of B.A.L.M.: Beeyoutiful All-natural Lip Balm and a free tube of Ow!-Ease to try out and give my honest review on this blog.