We have been blessed to be able to review quite a few great books that have historical content in them recently and
Uncover Exciting History
by Amy Puetz and published by
Golden Prairie Press
has now joined the ranks as one for the best that we have reviewed. It's byline is: "Revealing America's Christian Heritage in Short Easy-to-Read Nuggets".
I am presently at a fantastic retreat for the mission that we serve with BCM International. We have had some great Bible messages by our special speaker, and some great workshops on evaluating our mission and our ministry. So, since evaluating things is on my mind anyway, I thought would evaluate this book and see if it really does live up to that claim "Revealing America's Christian Heritage in Short Easy-to-Read Nuggets".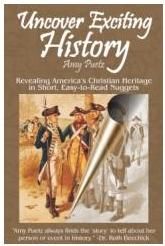 Does it Reveal America's Christian heritage? - Yes! Amy Puetz is excellent at retelling America's history in exciting ways. We have been enthralled at some of the stories that she tells. And, she always seems to insert little bits of information that the regular history books don't always tell. Did you know which hero of American history dressed as a monk by wearing a simple brown robe with a knotted rope as a belt? What about the adventurer who claimed he could block out the moon? You'll find out when you read Uncover Exciting History and, believe it or not, the same person did both of those things! I guarantee you won't be able to guess which one. I would never have guessed it. You'll have to buy the book to find out!
Are they short nuggets? - Yes again! Amy Puetz is not only fantastic at retelling stories and inserting interesting bits of unusual information, but she is good at doing it in a concise way. Can you believe that each chapter in Uncover Exciting History is only six pages long? Yep! Six pages is all she takes to tell you about The Lost Colony of Roanoke; The Making of a Republic; Miracle at New Orleans; and

The Navajo Code Talkers. And those are just a few of the chapter titles. There are many, many, more, and they all have those bits of interesting information that you can't find elsewhere. This book truly is fascinating.

Are they Easy-to-Read nuggets? They sure are. I've already told you that each the twenty-five regular (and four bonus!) chapters of Uncover Exciting History only has six pages in each, but they are also very easy to read. Even though my high-school age son is fascinated with the unusual information, I am planning on giving this to my forth grader to read, again, on his own. Oh, and, by the way, although there are bits of little known information inserted in each chapter, this isn't like one of those "believe it or not" books that only has weird info. Each chapter is very complete and historically accurate. Those unusual bits of information that I keep talking about are just a bonus. Of course, it doesn't hurt that they also make the reader want to keep reading and not put the book down!
So, how much is this truly exciting book? Believe it or not, you can get all of this for only $11.96 (20% off of the $14.95 regular price) by clicking
here
or on any one of the hi-lighted links above. Our family has loved this book. It comes in an ebook fashion, but download links are available in formats for Nook, Kindle or PDF Files. We have been reading it aloud and it has become a great core book for my younger children and a great companion book for my older son's studies. I heartily recommend this book.
Amy Puetz has written some other amazing books about history and some of the other TOS Review Crew members have reviewed them as well as the one that we reviewed. You can find out what they had to say by clicking
here
. Happy Homeschooling!
Disclaimer: As a member of the TOS Review Crew I was sent a free download of the ebook "Uncover Exciting History" in order to read and give my honest review on this blog.