One of the top goals for my family is healthy eating. Unfortunately it is also one of those goals that I fail at the most. Oh, don't get me wrong, we have definitely developed some better eating habits over the years. However, even with all of the research and trying out things that will help with our family, we haven't found anything that has really clicked. Now, because we have three fantastic foster sons that we are soon to become the permanent guardians of, we are searching for healthier recipes all the more. I am so glad we were chosen to review Everyday Cooking from Everyday Homemaking. I have reviewed items from Everyday Homemaking before and knew that they were an excellent company, so I was anxious to review their newly revised and bigger Everyday Cooking.
I never had the privilege of seeing the older version of this wonderful cooking resource, but, let me tell you, the new version is fantastic! Just the intro and appendix are worth the price of the book! The intro (as well as the beginning of most of the chapters and, really throughout the whole book) has awesome tips on how to use your cooking time wisely as a busy homeschooling and/or working parent. Tips on how to cook things ahead of time to pull out of the freezer on a busy day. Tips on how to make your dollar and food stretch. Tips on how to eat healthier. All of them are fantastic.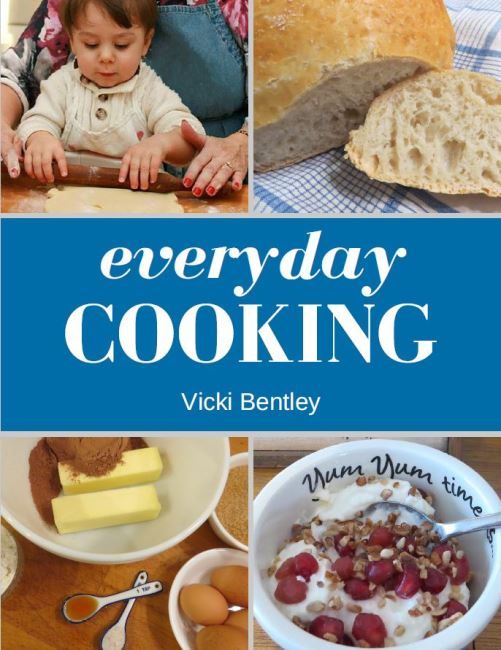 And, oh my goodness, the appendix section is out of this world. It includes the usual things like measurements, menu planners, shopping lists, and stuff like that, however, it has so much more! Did you know that you could make your own vanilla extract? I didn't, but they tell you how. What about low carb/gluten free sugar substitutes? Or brown sugar substitutes? Or chocolate syrup? I had no idea that you could do some of those things, but you can create those items and more. I even enjoyed reading about all of the kitchen items that are either essential or would be valuable to purchase if you want to have a healthy eating lifestyle. Are you a homeschooler? The appendix even has suggestions and planners on how to use Everyday Cooking as a homeschool tool.
And I haven't even gotten to the recipes yet! All of them are geared toward healthy eating and making the best use of time. The sections in the cookbook include Breakfast Ideas, Appetizers and Dressings, Bread and Grains, Main Dishes & Soups & Sides, and Desserts & Snacks. There are some awesome recipes in those sections, but there is also a section that includes recipes for slow cookers and pressure cookers. I chuckled at the name of that section – "The Tortoise and the Hare".
When we first went to Canada to help out at Mill Stream Bible Camp, they served something that was new and different for us – Baked Oatmeal. We fell in love with it but have never found a cookbook that had a recipe for it – until now that is. Everyday Cooking has a recipe for it that is out of this world. (Pictured Below) I can't wait to try out some of the bread recipes, or "Mom's Special Herb Dip", or their mayonnaise recipe (I've never tried home made mayo), or their Cheese-Garlic Biscuits, or Curried Chicken Casserole – I could go on and on. I also like the fact that their are pictures throughout on how to do things or how things are supposed to look when done – and, even if you can't find it in the book, they have a blog that does have pictures of most of the recipes.
To find out more about Everyday Cooking and Everyday Homemaking just click on any one of the highlighted links above. Other members of the Homeschool Review Crew reviewed this item and other items from Everyday Homemaking and you can find what they had to say by clicking on the banner below. Happy Cooking!