Who would have thunk it? (Okay, I know "thunk" isn't a word but it just seemed to fit!) Who would have thought that a book about English hymn writers and the hymns that they wrote could be so exciting, fascinating, educational, sobering, thought provoking...oh, I could go on and on, but my exuberations would in no way be as interesting as the book itself, so let me proceed in telling you about it. Hey! I just realized I'm beginning to sound a little like old Mr. Pipes himself!
Mr. Pipes - The most eccentric of them all, Mr. Pipes is the elderly but spry organist for the village church. Through divine chance, he meets two citified American children who have come to this small English village to spend the summer. He takes the children on many wild adventures while all along educating them on the lives of British hymn writers, the hymns that they wrote and, of course, the God that their famous hymns were written about.

The children - Annie - The very sensible, kind, inquisitive, creative sister who takes to village life easily and is friendly to everyone and everything.

Drew - The very urban younger brother of Annie who, at the beginning, is bored out of his wits at village life. He would prefer to listen to his CD player but soon forgets his music as he "nonchalantly" learns to love and appreciate Mr. Pipes and the hymns and writers about whom Mr. Pipes teaches.

Dr. Dudley - The very caring, but, perhaps, too worrisome and too caring village doctor who is always concerned with Mr. Pipes' health and the seemingly wild and foolish adventures that Mr. Pipes and the children have.

Mrs. Beccles - The kind and generous owner of the town bakery. She has taken the children under her wing and makes very sure that they are fed properly.

Thomas Ken, Isaac Watts, Charles Wesley, William Williams, John Newton, William Cowper, Augustus Toplady and Thomas Kelly, John Bunyan and a host of other Scottish, Anglican and women hymn writers. Yes, they are all a very important part of this book. You would not believe how fascinating their lives were and how interesting the history of the hymns that they wrote is.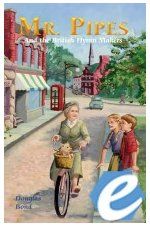 Now, please don't think that
Mr. Pipes and the British Hymn Makers
is a book filled with boring biographies of ancient and stuffy composers. It is nothing of the sort! Could you imagine that a book about hymn composers could include adventure? The author, Douglas Bond, is, I'm sure, somehow related to James Bond, because he knows how to make life exciting. Not only do Mr. Pipes, Annie and Drew go on exciting adventures, but so do the ancient musicians that they talk about. In this book you'll find fishing, sailing, train rides, storms, kings, queens, pirates, wars, and, ugh, even beheadings. And that is only in the first few chapters. You'll have to read the book to find what is in the later pages.
This book truly is a fascinating book. If my three boys, even my six year old, can sit and be enthralled, then I'm quite confident that any child would enjoy it. The language and the the larger words may be a bit more than an elementary child can read, this book is recommended for 7th - 10th graders, but any age child would love this book as a read-aloud. In fact, that's how it was used in our household. We opened our school day by me reading from it and the boys loved listening.
Mr. Pipes and the British Hymn Makers
really is filled with a lot of adventure had by both the children and Mr. Pipes but also the hymn writers that Mr. Pipes teaches about. However, the interesting autobiographies are just a small part of what makes this book endearing. The cross-generational, cross-cultural and loving relationship that develops between the children and Mr. Pipes as he gently tells them about the one, true God is also a large part of what makes this book special.
I know that your family would enjoy it as well. The suggested retail value for
Mr. Pipes and the British Hymn Makers
is listed as $10.99, but,
Christian Liberty Press
, the company that publishes this book, has it listed for $9.89! To find out more about this and other Mr. Pipes books (yes, this is a series and I can't wait to receive the next one), just click
here
or on any one of the hi-lighted links above. Happy Homeschooling!
Other members of the TOS Review Crew reviewed
Mr. Pipes and the British Hymn Makers
and you can find what they had to say by clicking
here
.
Disclaimer: As a member of the TOS Review Crew I was sent a free copy of Mr. Pipes and the British Hymn Makers from the publisher Christian Liberty Press in order to read and give my honest review on this blog.