Have you ever read a story, heard a sermon or listened to a song and wondered how in the world the author/composer knew you or what you were going through? It was almost as if they were describing your life or speaking right to you.
That's the way it felt when I was first reading the introduction to
See-N-Spell Spelling and Vocabulary Quick Reference Guide
. It was like they were describing me! They hit the nail right on the head. They were describing how writers sometimes have a word that they want to use but, although it is in their speaking vocabulary it may not be in their written vocabulary. They may know how to use it correctly, but they don't know how to spell it correctly. So, instead of running the risk of spelling it incorrectly, they just choose another word. A word that they can spell but may not really convey what they are trying to say.
After reading that I thought "How did they know? How did they know that is what I do almost every time that I write?" I've been doing that for years. Boy do I wish that I had this simple little book when I was younger. Boy do I wish that I had this simple little book last week.
It really is a simple little book, but boy can it do wonders for a student, a writer, a homeschooler,...you name it. See-N-Spell has so many uses.


See-N-Spell
is divided into three sections. The first section has over 300 commonly used words arranged on alphabetical order pages. The "A" page has all words that begin with the letter A. Each letter page is further divided up into parts of speech. So, if you couldn't remember how to spell a word but you knew it began with B and you knew it was a noun, you would just go to the B page, find the noun list and scan the words until you found the one you were looking for. All of the parts of speech are listed along with a section of Homophones - words that sound the same when you say them, but have different meanings.
This is something I've needed for a long time. In fact, I found myself checking it just a few minutes ago as I was writing this review!
The second section is a list of commonly misspelled words listed in alphabetical order. Again, I used that section just a little while ago.
The last section is blank section where you can write in your own "Special Interest Words". Those are words that perhaps you have trouble spelling or using correctly but aren't listed in the other two sections.
I am really loving this book. Not only is it of so much help, it has so many uses. How about -
A quick reference guide for writers or students when they write.
A handy spelling list for homeschoolers. They can use the commonly misspelled word list.
A grammar guide for how to use a word in the correct context.
I could go on and on about how much I like See-N-Spell and the versatility of it.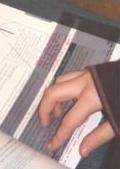 It also came with a handy dandy See-N-Read. I reviewed the See-N-Read's last year. They are those awesome tools that are plastic with a slit in the middle that allows you to see one line of text at a time. This prevents a person from skipping lines and also help a student eliminate all of the clutter on the page so that they can concentrate on reading better and help them keep their place while reading.
So, how much is this great too you ask? The See-N-Spell is just $9.99 and comes with a FREE See-N-Read reading tool! You can find out more about them by clicking
here
or on any one of the hi-lighted links above. The website also tells you more about the See-N-Read reading tool and how to purchase one separately. Again, many other members of the TOS Homeschool Crew reviewed See-N-Spell and you can find what they had to say by clicking
here
. Happy Spelling!
As a member of the TOS Homeschool Crew I was given a free See-N-Spell and See-N-Read reading tool in order to try out and give my honest opinion on this blog.