When the moon is in the Seventh House
And Jupiter aligns with Mars
Then peace will guide the planets
And love will steer the stars

This is the dawning of the Age of Aquarius
The Age of Aquarius
Aquarius! Aquarius!
No, I do not believe in astrology, but, remember, I was a child of the 60's and the 70's and, yes, I know quite well who The 5th Dimension is. In fact, I love to sing some of the songs from The 5th Dimension. Just ask my kids. They often roll their eyes at me when I loudly break out singing a strange song from my youth. But, I digress. I added the above song to this post because it reminded me that, although Jupiter and Mars aren't going to align in the near future, Jupiter and Venus actually are going to align early next month.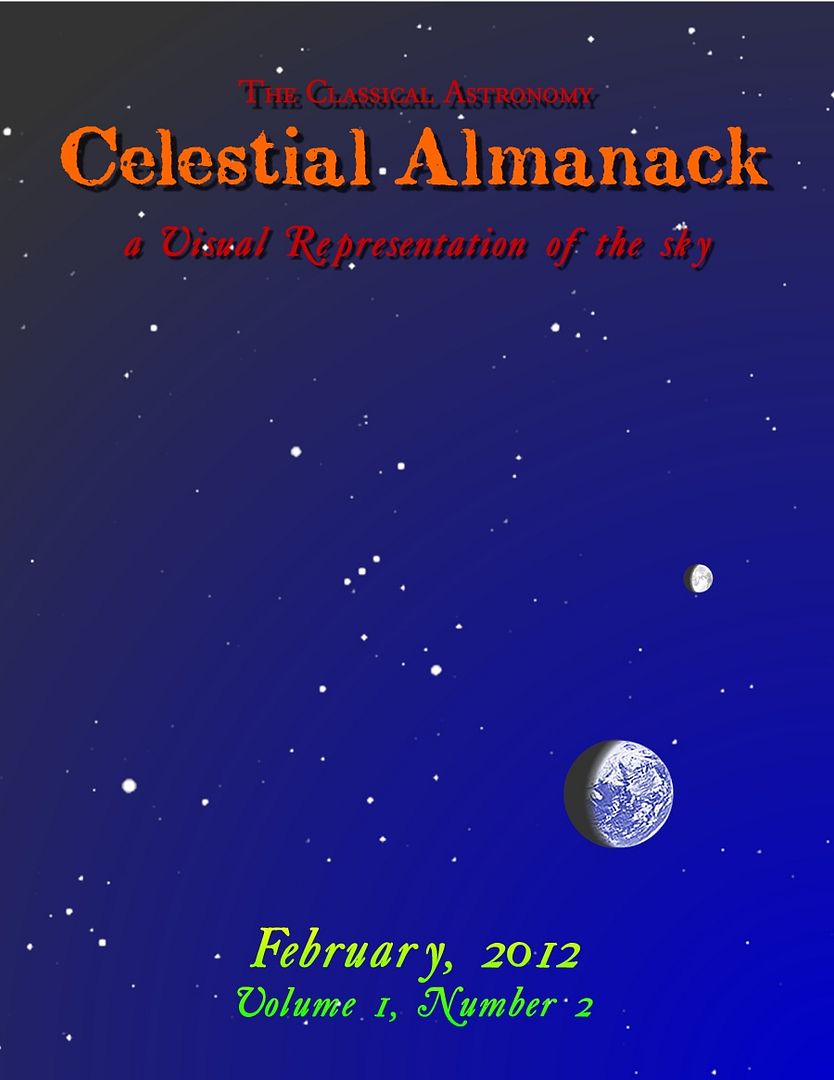 Now, how do I know that? Because of Jay Ryan's "The Classical Astronomy Celestial Almanack" February 2012 edition! Jay Ryan, the great author of the "Signs and Seasons" homeschool astronomy curriculum, just began publishing his monthly Celestial Almanack in January 2012 and plans to continue at least through this year. You see, Jay Ryan loves the night sky. He loves the planets, the stars, the moon...he just plain old loves astronomy. He's been writing about it in one form or another since 1990. He decided to start "The Classical Astronomy Celestial Almanack" partially because the year 2012 is going to be an exciting astronomy year. You see, not only are Jupiter and Venus going to align, but also, later this summer, there's going to be a conjunction of Mars and Saturn and even the "Transit of Venus" this June. Don't ask me what all of that means. I just know that many of the events happening this year are very rare, once in a lifetime experiences. That's what this wonderful resource is all about. It's a guide to the night sky.
Now, I've been interested in astronomy for a long time. I remember when I was in college ad Haley's Comet came close to the earth. I also remember our trips to Florida when I was young and then, later, moving to Florida. Kennedy space center was always a fascinating place for me, and, the Florida night sky is always beautiful. I remember reading about rare celestial events and hearing about them on TV, but, it was usually too late to be able to make plans to see these amazing things happen. Computers were just new and, the internet hadn't taken off. Even today, it's difficult to search through all of the information on the night sky to find something that is easy to understand. I know. I've tried it before. I am so glad that I was chosen to review this new venture by Jay Ryan, because it is so easy to understand, yet packed with information.
The February edition of "The Celestial Almanack" has 21 colorful pages in it. But, as I said, it is packed full of information. Do you know why the month of February has 28 days? I didn't. You find out in this months edition (it has something to do with Julius Caesar ad Caesar Augustus). It also talks about the sun, what it is doing in during the different seasons of the year, and it's "declination". What is the suns declination? That's something else you'll have to find out by buying this months edition.
All of the above things were fascinating, but, not as fascinating as the night sky. Jay Ryan explains in such simple terms what is going on in the night sky and how to find the different constellations. And, he teaches all of these things using Classical Astronomy. Classical Astronomy means that you use nothing but your naked eye to find things in the sky. No binoculars, no telescope...nothing but your eyes. And it really works! I have never been able to find the different constellations except for maybe the big and little dippers. "The Celestial Almanack" teaches you how to find these things using what Jay Ryan calls the one star method. If you can find one or two major stars then you can find almost all of the constellations (if they are visible that is). The full color charts in this downloadable book help as well. The first night out I was able to find Orion, Canis Major and Taurus. I was fascinated and hooked! I went out again later that week (after a couple of rainy nights) and was able to locate Canis Minor, Gemini, Zenith, Perseus and more. I was even able to identify Mars and Jupiter. This might be common stuff for some of you, but it was never easy for me.
I am fascinated. As I said before, it is so easy, and all along the way Jay Ryan artfully teaches about God's great night sky. Yes, Jay Ryan is a Christian and teaches all of this from a Christian standpoint. Not, to worry, though, if you would rather not have something taught from a Biblical perspective. Everything that he writes is backed up scientifically and he also explains things in a scientific manner (in an easy way of course). As I said before, he also throws in a lot of fascinating facts. "The Celestial Almanack" is really great for the night sky savvy individual or one that is a novice like me.
So, how do you get this great monthly almanack? Is it for sale on a news stand? Nope. Do you have to subscribe to it? Nope. All you have to do is go to a great site called Currclick and download each edition monthly. To get to this months edition just click here. Each edition is only $3.00! The January edition is even on sale for $2.00 right now. I am here to tell you it is worth every penny! We have loved it. Again, just click here or on any one of the hi-lighted links above to get to this months edition. As usual, other TOS Homeschool Crew members have reviewed this great resource and you can find what they had to say by clicking here. Happy Night Sky Watching!
As a member of the TOS Homeschool Crew I was sent a free download of "The Classical Astronomy Celestial Alamanack" in order to try out and give my honest review on this blog.