I have be honest, when I heard that the TOS Homeschool Crew was reviewing Kinderbach again, I was not overly enthused. After all, we have already reviewed this piano/music theory program for kids ages 3-7 twice before. Click here  to get to last year's review. It's not that we don't like the program - we love it. I just thought to myself, what more could I write about this wonderful program. Well, when I told my 11 year old asperger's child that we would be reviewing it once again my attitude changed quickly. His first response was "You mean the one with Dodi? Yeah!" and he began to jump up and down in joy.
Dodi is one of the great characters that Miss Kari, the creator of Kinderbach has created. The characters are just one aspect of this program that Joshua loves. I've written about the characters in previous reviews, though. This time, after watching Joshua continue to enjoy the program, I thought I'd focus on why I think this program is excellent for kids like him. You may have noticed that I mentioned that Joshua is 11 years old yet I said above that Kinderbach was for ages 3-7. One of the great things about homeschooling is that when you homeschool, you can often go against the norm. You don't have to stick with grade or age level material with your  child. Joshua has asperger's syndrome - a form of autism along with ADHD. Often traditional learning programs and learning styles don't work for him. Although we have never tried it, I am quite confident that regular piano lessons probably would, more than likely, either drive him crazy if not the instructor first. Kinderbach has been great for him and as I watch Joshua use the program, I can see why it is perfect for him. Here's why:


It is captivating. The characters in this video based program are really appealing and keep the student's interest. As they are introduced, they become Joshua's friends. What a great way to learn - with your friends! The mixture of a live teacher and animation is really entertaining. Miss Kari is entertaining as well. She speaks right to the child and makes the child want to get involved and learn. Which brings me to the next point.


It's interactive. The student isn't just sitting in front of a keyboard or piano and plunking on the keys. Miss Kari has them up and down and moving quite a bit. With some of the lessons, if someone walked in and didn't know what was going on, they might think Joshua was doing aerobics!


It's short and sweet. Joshua could never sit through a normal 30 min. to an hour piano lesson. The lessons in Kinderbach are all less than 10 min. each, but, the Kinderbach series is divided into six levels with 10 weeks in each. Each week has four lessons in it. So, really you are getting four lessons a week of about six or seven minutes each. That would be close to thirty minutes a week. The same amount of time that you would get in a regular piano lesson but broken down into small chunks. Since Joshua is a little older and can handle a little more, I sometimes allow him to watch and complete a couple of videos at a time, but that doesn't always work. Sometimes there is more to do than just watch the video. Which brings me to my next point.


It's repetitive. Not in a bad way, but in a good way. Kids with aspergers syndrome often need repetition. Miss Kari always knows when and how to review something that they have learned in the past. Plus, there are also coloring sheets and a workbook that go along with the program. The workbook may have you cutting and pasting, drawing, or doing a simple but relevant pencil and paper activity. It all goes wonderfully together.


It's convenient. It's convenient in a lot of ways. Remember, Joshua has aspergers. Aspergers kids need schedules, but they often have off days. If I were to take Joshua to a piano lesson on one of his off days, it would be a waste of the teachers time and my money. He can watch Kinderbach when he is ready. He isn't confined to a certain time, or even area. You can even watch Kinderbach while you are on the road. While many of the lessons encourage you to use a piano or a keyboard, many do not. He can watch the video on our tablet or even on our phone and do the activities later.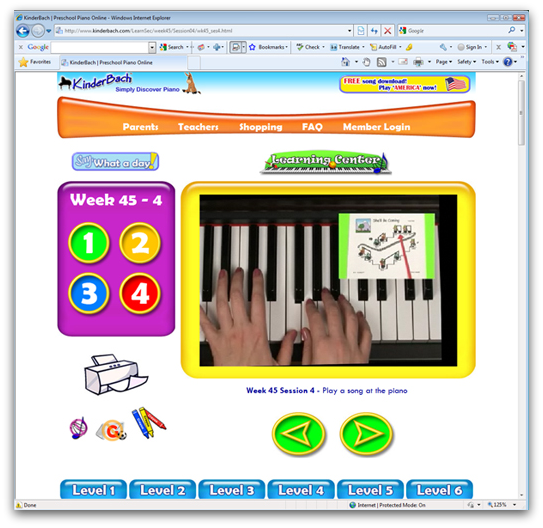 I really could go on and on about Kinderbach and how it has been great for Joshua, but if I did, this review would be way too long. Click here to get to the Kinderbach website where you'll find a video that talks about the program a little more. Then, why not try it out for yourself. You can try the first two weeks of Kinderbach for free! Just click here or on any one of the hi-lighted links above. Kinderbach regularly is priced beginning at $7.99 a month for the online program. Or, you could purchase a DVD/CD package for $40.45 per level. Additional plans and materials are also available on their website. But wait! When you are ready to purchase, Kinderbach has offered a discount just for the readers of the TOS Homeschool Crew blogs! You can take 30% off any order for by using the Coupon Code: TOScrew2012. As usual many others from the TOS Homeschool Crew members have reviewed Kinderbach and you can find what they had to say by clicking here. Happy Home Educating!
As a member of the TOS Homeschool Crew I was given a limited time subscription to Kinderbach's online program in order to try out and give an honest review on my blog.
Powered by Qumana