I grew up in an old coal mining town. My grandfather was a coal miner and even had his own small mine. Grandpa was very old fashioned. Although he was retired, he was still very active and had a huge garden and a small farm. We moved in with him half way through my second grade year. My parents thought that, since he was getting older, he needed someone to take care of him. So, we moved back to the old homestead - the house that my mom was born in.
Glen Richey was not a bad town. There were a lot of good people that lived there. They were hard working people. The kids worked hard too. And, they played hard. They were taught how to defend themselves. Unfortunately, though, just like any town, there were the bullies as well. And, unfortunately, I was a preachers kid from out of town, and was never taught how to defend myself. To put it plainly, I was a wimp. The fact that my last name was Tinkel didn't help either. I was picked on unmercifully in elementary school up through seventh grade and then even a little through high school. Oh, my classmates were all very nice to me, it was older kids that picked on me.
I had a terrible inferiority complex. I really could have used the Apologia Press course
Who Am I? And What Am I Doing Here?
by John Hay and David Webb. It's part of the Apologia Press series called What We Believe. The subtitle for this wonderful study is "Biblical Worldview of Self-Image". We didn't have ANY courses on self-image let alone a Biblical course when I was growing up. I'm sure glad that Apologia decided to make one for today's young men and women.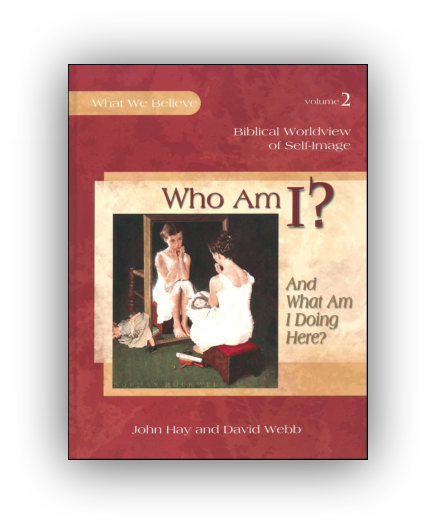 This wonderful book has eight lessons (click
here
for a download of the table of contents). Each lesson is designed to be completed over a six day period. In fact, the recommended schedule divides each lesson into a three week period with a student working with
Who Am I? And what Am I Doing Here?
two days each week. Although the Apologia website says that this book is written for children ages 6 to 14, it is written on a fifth or sixth grade level, so a younger child may need the text read to him. Really, with some adjustments, this course could be used with any age child even through adult. It is part of Apologia's What We Believe series.
John Allen has really enjoyed this book. It combines interesting stories along with scripture to lead a child in having a healthy self-image. One that is based on God. After all, we are made in His image. We received a Notebooking Journal along with the text. The journal guides the student in what to do every day. This truly is a self study course. No teacher preparation is needed. The only requirement is that you listen and discuss when a discussion time is called for or whenever your student just needs to chat.
You can purchase the hardback well bound text for $39 and the spiral bound notebooking journal for $24. There is also a coloring book for younger students (or older if they still like to color) for $8. There is even an audio CD of the textbook that you can purchase for $19. This would be handy for the younger student. Click
here
to find out more about Who Am I? and to download a sample lesson. You can find out what other members of the TOS Homeschool Crew thought about this product by clicking
here
. Happy Home Educating.
As a member of the TOS Homeschool Crew I was sent a free copy of the Who Am I? And What Am I Doing Here? textbook and notebooking journal to try out and give my honest review on this blog.