Most of you know that my middle child, Joshua, was diagnosed with asperger's syndrome a couple of years ago. Asperger's is on the autism spectrum. We think that Jacob, our youngest, is on the autism spectrum as well, but has never been diagnosed. It's difficult to have an asperger's child. They look normal in every way, but they definitely aren't normal. I won't go into all of the details right now because that isn't what this post is all about. But, some of Joshua's tendencies and the way that he acts will help you to know why I think this great Product, We Choose Virtues, is perfect for him.
One of those problems that Joshua had was that he was very phobic. He used to be afraid of everything! He was afraid of the dark. He was afraid of bugs. He was afraid of dirt. He was afraid of everything! He was even afraid of getting into the car if there were bird droppings on the windshield! I remember one summer when he was very afraid of moths. Of course, moths and summer go together in a state like Tennessee. He could not even go to the restroom at night if he thought a moth had gotten in the house and had flown that way. Finally, in order to get him to feel better, I came up with the idea to name the moth. We named all moths "Martha the Moth". We would just say "Oh, that's just Martha Moth. Don't worry about her." Any extra moths flying around were Martha's family. That seemed to do the trick. It didn't happen overnight, but, for some reason, that calmed him down until he wasn't afraid anymore.
That was when I realized, that, at least with Joshua, in order to help, we needed to put a name to things. Things like moths...or...like virtues. That's why he likes We Choose Virtues so much. Because they put a name to virtues (good character traits). We received the elementary set of virtue cards. Here's how the website describes them:



There are 12 Virtues in the Early Childhood through Elementary set. They are…I am Diligent, I am Kind, I am Helpful, I am Obedient, I am Forgiving, I am Perseverant, I am Gentle, I am Patient, I am Self-Controlled, I am Content, I am Honest, and I am Attentive.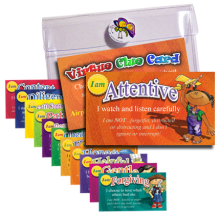 One of the products that we received was a set of twelve pocket size virtue cards in a really neat clear plastic pouch. We take one card to work on a day. Other children, I'm sure, could work on more cards per day, but, with Joshua, one card and one character trait was about all that he could handle. One of the first virtues that we talked about was forgiveness. We talked about what forgiveness was, and the dos and don'ts of the proper way to forgive and the "not so good things" to do. For example:



I am forgiving. I choose to love when others hurt me. I am not hurtful or angry and I don't stay made, gossip, or try to get even.



The card has a picture of a girl with a feather (perhaps to remind them to be gentle). Her name is "Heather Feather" - Feather is a catchphrase to help them remember to be Forgiving. All during the day, Joshua carried that card so that it was on top and could be seen through the plastic case. If I saw him having a hard time being forgiving with one of his brothers, then I would say something like "Remember Heather Feather" or "Look at your card" and that would give him a clue as to how he was acting. It's been a process but I can see it beginning to work. The catchphrases really help with him and make it stick (remember Martha Moth?). We also received a coloring book of all of the characters (like Heather Feather) for Joshua to color as an extra reminder to him about what forgiveness is all about. One of the best things that we received was a set of Bible verses with a Bible Hero or Truth that goes along with each character trait. Of course, who do you think the Bible character was for forgiveness? Jesus Christ! And the Bible verse was from Psalm 25:11. The teacher's book that we got explained a lot and gave some good ideas as to how to use the cards and other materials that you can order to go along with your family. We also got a neat evaluating chart to evaluate how everyone was doing.
We really enjoy We Choose Virtues and I have found it an excellent tool to use with Joshua. You can order all of the things that I listed above separately - the neat cards that I mentioned are only $5.99 -and they also have neat kits - like the homeschool kit with A LOT of neat stuff in it for $99.99. The items that I described above are geared for children from 3-11 but they also have youth items for kids from 12-18. Just click here or on any one of the hi-lighted links above to check it out. As usual other members of the TOS Homeschool Crew reviewed We Choose Virtues and you can find out what they had to say by clicking here. Happy Home Schooling!
As a member of the TOS Homeschool Crew I receive various items from We Choose Virtues in order to try out an give my honest review on this blog.
Powered by Qumana