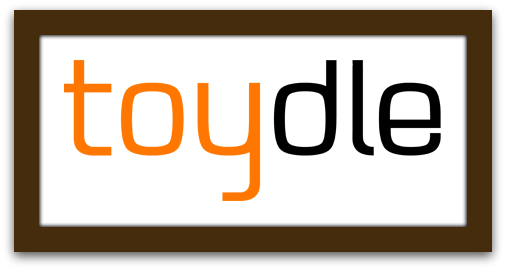 It never ceases to amaze me how God places things in our life, right when we need them. life is never easy in a household that has one child is autistic and another child that we think is autistic. Our teenage son, John Allen, the only one of our three children that isn't on the autism spectrum, often seems to get  "the short end of the stick". Being a teenager in and of itself is difficult without having two disabled brothers. John Allen's wishes and desires often have to Be put on the back burner because of therapies, doctor's appointments, or other things that pertain to his two younger brothers.. There is often resentment and contention in the ranks. Sarah and I are always looking for things and ways that promote unity in our household.. When we received a Toydle Toy Fort to review for the TOS Homeschool Crew, we had no idea what a blessing it would be.
I gave a brief blip about the Toydle Toy Fort a few weeks ago. You can find that  informational review  by clicking here. Everything that I said there is true. Toydle Toy Forts really are:



Well made in America




Sturdily made of quality PVC piping.




Easy to put up.




Easy to take down and store away.




Creative.




Educational




Guaranteed




Just plain fun.



but for us the Toydle Toy Fort was much more. It was something that brought our three boys together. While building the Toydle Toy Fort they learned to:



Work together.




Plan together.




Listen to each other's ideas.




Cooperate with one another.




Be creative together.




Have fun together.




Enjoy something other than video games.




Get along with one another.



Sarah and I looked on in amazement as these things were occurring. While we watched, we also learned something about each of our three sons. When given the chance. John Allen can be a good leader. Joshua is a fantastic organizer.  Jacob is fearless and thinks that he can do anything that is two big brothers can do. take a look at some of the pictures that I took while the construction was going on. I think you'll see what I mean.
Now, I'm not saying that everything has been hunky-dory since we received our Toydle Toy Fort, but it has shown us that there is hope. I'm also not saying that the same reaction will occur in every family.  But I do know one thing – no matter what your kids will have fun.. The Toydle Toy Fort has been one of the best items that we have ever reviewed.  I would recommend it for any family. It's easy to use. Really, it reminds me of a giant set of Tinker Toys but much sturdier and much better. And, one of the best things is, that it is fully guaranteed. If one of the PVC  pipes happens to break they'll replace it for free. If you happen to leave when of the connector blocks out in the rain, don't worry about it, it's guaranteed as well. As I mentioned in my previous review, that Toydle company was started by a man named Robert Brownfield. After he brought a toy home for his son and it broke 5 min. after his son opened it, Robert realized that there was a need for well-built toys. According to the Toydle website, all of the things that his company makes are hand cut or hand formed by American hands. I can testify that Toydle forts really are well made. As you can see in the slideshow above, after my boys made the fort, they invited all the kids do come to the mission to play in it. Even with all of that wear and tear, not a thing was broken. When we finally needed the room in the mission, the fort was easily taken down and stored away in the convenient bag that it came in. As I said before, I would recommend Toydle forts to anyone.
Just click here or on any one of the hi-lighted links above to get to the Toydle website. The forts come in two different sizes. The regular Toydle Toy Fort sells for $149 and the Big Toydle Fort sells for $229.99. Each comes with specially cut, sturdy, tubes, hand made connector blocks, clips and a handy dandy carry bag. And don't forget, everything is unconditionally guaranteed! Check them out, you won't be disappointed. Other folks from the TOS Homeschool Crew reviewed Toydle Toy Forts and you can find but they had to say by clicking here. Happy Home Educating!
As a member of the TOS Homeschool Crew I was sent a Toydle Toy Fort for free in order to try out and give my honest review on this blog.
 Powered by Qumana