I've said many times on my blog, that my family loves languages. Maybe it's just me that loves languages and I've just kind of passed that on to my children, but at any rate, my children seem to enjoy learning different languages. I was really excited this year to see several language curriculums listed as items that we would be reviewing.
R. E. A. L. Homeschool Spanish
was one of those language curriculums that I was looking forward to reviewing and I got my wish.
R. E. A. L. stands for." Relax, Enjoy, Aspire, Learn Spanish" and it is just that. It really is a curriculum that allows you to relax and enjoy learning a language. Because of the Christmas holidays, Joshua and I haven't gotten to use this program as much as we would like but when we have used it, we have enjoyed it. The main book for R. E. A. L. Homeschool Spanish is divided into 10 units that each center around a theme. For example, unit one talks about reading and the question ," How are you?". Unit two talks about colors, numbers and telling time. Each unit is then divided into smaller sections. Each section consists of a vocabulary cluster and phrases that use those vocabulary words. Students can listen to the vocabulary words and phrases by downloading an audio of authentic Spanish speakers from Mexico. Students are encouraged to make flashcards to help learn each list of 10 to 20 vocabulary words.
Now, having said that, that's about as close to a traditional Spanish curriculum that R.E.A.L. Homeschool Spanish gets. I'll tell you right now, that our Joshua would never do will with a traditional Spanish curriculum. He needs more of a hands-on approach to learning. He would never do well with a." Learn a bunch of words and do a bunch of worksheets" approach. This curriculum is anything but that. Each unit comes with a multi page ideas section to help you incorporate what your child is learning into his everyday life. For example, the ideas in unit one suggest showing puppets interacting using the greetings and goodbyes, or, maybe, encouraging the child to create their own " greetings and emotions" cartoon. There are actually 13 ideas that you can pick and choose from along with the " tips to the home educator" that are also scattered throughout the text. There really is a plethora of activities that you can use to help integrate the Spanish language into your home.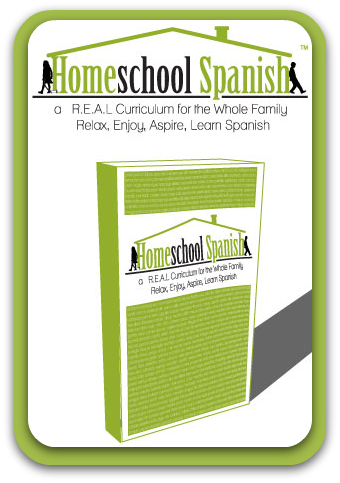 But, that's not all!
R.E.A.L. Homeschool Spanish
believes in using all of your senses when learning Spanish. So far, the student has read the words, listened to them, and use them around the house. To help with the student that learns well using the tactile approach, there is also an activity book that includes pencil and paper activities. As I said before, though, these are not typical worksheet activities. They might include a crossword puzzle or matching activity or a word search or a dialogue completion activity or something completely different. All of the activities, however, do use some sort of tactile approach.
The all around approach of R. E. A. L. Homeschool Spanish is what really sold me on their program. This is perfect for a child with a learning disability or a child like my Joshua, who has aspergers syndrome. Or, for that matter, any child. Research says that children learn best when using all of their senses and this curriculum does just that.
R.E.A.L. Homeschool Spanish is recommended to be used with the whole family, beginning with elementary age children and on up. You can purchase a download for $49.95 for a hard copy for $89.95 by clicking
here
or on any one of the highlighted links above. Those links will take you to the website where you can download samples of this great curriculum. As usual, many other members of the TOS Homeschool Crew reviewed R.E.A.L. Homeschool Spanish and you can find out what they had to say by clicking
here
. Happy home educating.
As a member of the TOS Homeschool Crew. I was sent a free download of R.E.A.L. Homeschool Spanish in order to try out and give an honest review on this blog.