s

I know that many of my blog readers only read my homeschool reviews and don't really know me outside of homeschool circles. They may not know that my wife and I are full time missionaries and are devout Christians. Although we fail in many ways, we try to raise our boys to know, love, and obey God. Of course, the main way to do that is to teach them the importance of God's Word and devotions and Bible study. That's why I was thrilled to be able to review the
Faith Builders Bible
from
Zonderkidz
.
Zonderkidz
is a division of Zondervan.
When I found out that we were reviewing the
Faith Builders Bible
, I immediately thought of our youngest son, Jacob, who is every bit of a 10 year old boy. He loves challenges, he loves video games, he loves history, he loves building things, and, praise be to God, he loves the Lord. The latter two things that I mentioned are why I thought that this Bible would be great for him.
The
Faith Builders Bible
contains the full text of the NIrV - New International Reader's Version of the Bible and that also made me believe this might be a perfect fit for Joshua. The NIrV is based on the popular NIV Bible. The NIV is already one of the most widely used versions of the Bible because it is an accurate translation but also very easy to read. The NIrV is even easier to read than the NIV. They took the NIV Bible but replaced some of the harder to understand words with easier words to understand. They also shortened the sentences when they could and divided the chapters in to shorter segments. I found a great explanation of the NIrV Bible on
BibleGateway.com
.
So, what is so special about this Bible? Well, first of all the
Faith Builders Bible
is perfectly made for young hands. It is a sturdy hard back with thicker pages. It doesn't have the papery thin pages that regular Bibles usually have. But, although those are wonderful things, that isn't the reason why I love this Bible so much. As the name implies, as the pictures describe, and as I mentioned briefly above, it incorporates the use of Lego type blocks in the pictures that are throughout the book. As you can see by the snapshots above and below, these illustrations are of some of the great Bible stories that kids love. What a great idea! Combining learning the Bible with building blocks! I love the way they encourage kids to build some of the smaller pictures. That could lead them to build some of the larger pictures and, therefore, immersing them into the story! Whoever thought of this is a genius! When kids become connected and immerse themselves into something then they really learn! They add to the building theme with "Building Block Verses" that are displayed underneath the pictures that encourage the kids to memorize scripture.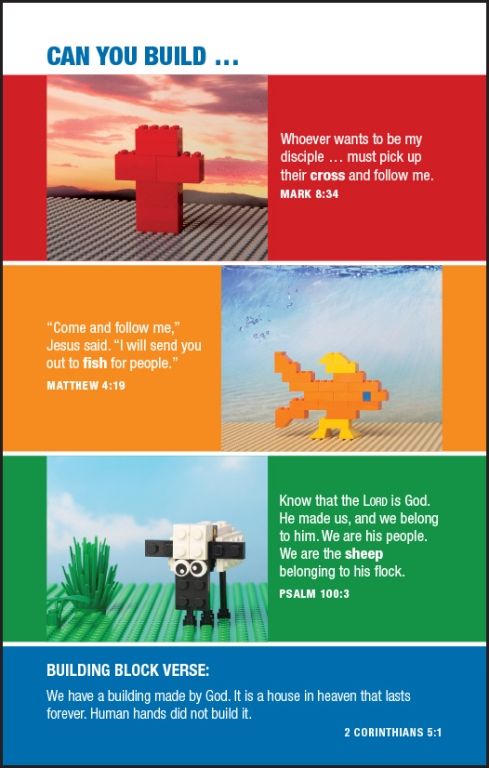 Jacob loves this Bible. He proudly carries it to church because it is his own Bible that is written in ways that he understands, and illustrated in a way that make him excited to learn more about the Bible. Because he is reading challenged, this Bible is a lot easier to read and as reading becomes easier for him he will be encouraged to read more. About a year ago we had to move into a smaller apartment so we had to put a lot of things in storage - including most of our building blocks. These are coming out of storage slowly but surely because he is wanting to use them more and more. I can't wait for him to recreate one of the larger scenes from the
Faith Builders Bible
.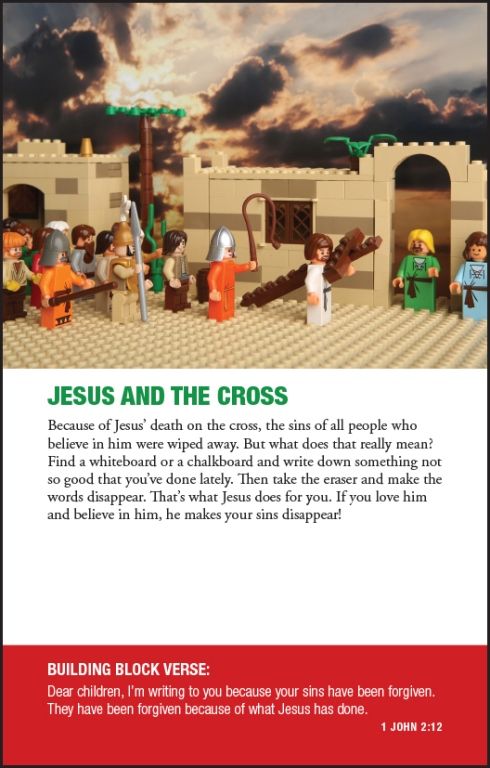 The
Faith Builders Bible
from
Zonderkidz
is definitely an A #1 favorite of ours. Jacob and I both give it two thumbs up! I really think that you and your kids will like it as well. To find out more about the Faith Builders Bible click on any one of the highlighted links above. To read what other members of the Schoolhouse Review Crew thought of this great Bible, click on the banner below. Happy Bible Reading!