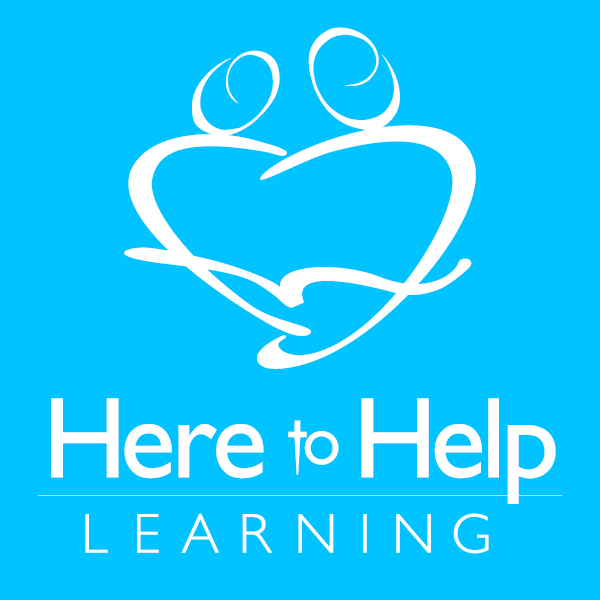 My two oldest boys are very creative and love to write. My youngest is also very creative and I think will be a good writer as well. The problem is that they need some help with the mechanics of writing and putting it all together. Unfortunately a lot of the homeschool writing curriculums out there are either kind of fun but with no substance or have a lot of substance but comes across as very academic and boring. With my kids, especially with two of them being on the autism spectrum, we need a writing curriculum that has both substance and is fun. We have found a winner! The Here to Help Learning Homeschool Writing Program is that curriculum! But wait! There's an added bonus. Here to Help Learning is Christian and teaches values while it teaches writing. What a deal!
Okay, now that I think I made it clear that we are enjoying Here to Help Learning, let me tell you some reasons why.
#1 - It gives you choices. If your child is just beginning learning how to write, it is suggested that they begin with paragraph writing. Do you have a child who has some paragraph writing experience but needs a little more help? Never fear, their are three levels of paragraph writing to choose from. They call them "Flights".
If you have an older child who has some writing experience, you should probably choose one of the three essay writing flights. Although there can be some interchanging between the paragraph and essay writing flights, the flights get progressively more advanced as you move up. As I mentioned before, at the beginning you are just learning how to organize your thoughts and write a good paragraph, however, when you finish essay writing flight three, you will have written a whole six chapter book!
I also like the choices within the lessons. I chose to put Joshua and Jacob both in Paragraph Writing Flight One. Jacob is new at the writing process so this was a perfect flight for him, and I feel that Joshua needs to brush up on the basics so this seemed to be a good choice for him as well. Besides, the scope and sequence says that at the end of this flight the student will have written and published there own picture story book and I thought that this was pretty cool and would give them the excitement to keep going. However, I was concerned that it would be either too hard for Jacob or too easy for Joshua. I had nothing to fear. Even within the lessons, they give choices. Jacob may not have to write as much as Joshua. They are encouraged to do what they can do.

#2 - It is bite sized. I like the fact that a student doesn't have to work for hours every day. The Here to Help Learning Homeschool Writing Program is designed to be done two days a week for 45-60 minutes each day for the paragraph writing flights and perhaps a little longer for the essay writing flights.
However, don't think that they will be laboriously sitting and writing for almost an hour each day. Even the lessons are divided into sections. There are really five sections that Jacob and Joshua have been covering each week.
On the first day there are four areas covered. The "Pre-Flight Checklist" makes sure that you have everything needed for that day. The "Flight Check-In" covers the verse for the course, the character trait being learned during that writing project and other incidentals that need to be gone over. During the "Take Off" time there is usually a game that is played that helps the students learn basic writing techniques. Then there is a warm-up activity to get the creative juices flowing. Finally, the "Full Throttle" time delves into the main lesson, a discussion, and sometimes a pertaining craft.
The second day is the "Flying Solo" day where the student works on their own to complete a part of the project.
Even the projects are divided into bite sized pieces. Each project takes five to six weeks to complete. Then another project is begun that builds on what was previously learned.
It really is that simple. You watch the videos, do the fun worksheets and learn! Oops! Did I forget to mention that all of this is fun. I guess I need to cover that in #3.

#3 - It is just plain fun! It is fun for me because there is hardly any prep time. I just go to the weeks lessons, review what is going to be learned that week, print out the worksheets, and cue up the videos. It really is that simple!
It also is hilariously funny and fun for the kids. Beth, the teacher and creator of Here to Help Learning, is hysterical and very entertaining. When she is explaining a particular writing style, or talking about a project that the student is to do, she actually goes on location and dresses the part. The games are explained in an actual game show setting. And, who can resist, Captain Knucklehead our basset hound pilot? Take a look at the above short video and I think you will begin to understand what I mean. Here to help learning is just plain fun!
My kids are leaning so much through this great curriculum. I can't wait to see the books that they publish. Even thought John Allen, my oldest, is through with all of his language arts requirements, I'm thinking of introducing him to Essay Writing Flight Three because that is where the student writes a six chapter book. He has been working on a book for a long time and I think this would really help him.
As you can see, we love Here to Help Learning. We were given a one year membership but I think this is going to be one of those memberships that we keep on renewing over and over again. It is definitely a complete package that we are going to keep using. The kids love it, it teaches in small bites, it is Christian and it works! To find out more about Here to Help Learning just click on any one of the highlighted links above. To discover what other members of the TOS Review Crew think of this great writing curriculum click on the banner below. Happy Writing!