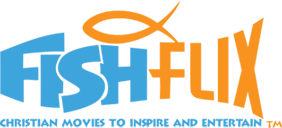 It's amazing how God works sometimes. Just recently Joshua and Jacob, my two youngest, and I were talking about some of the Christian videos we used to watch. I couldn't believe it when Joshua began rattling off the names of characters and plotlines that I had long forgotten. We had a great time remembering things we had learned about the Lord and great times we had together. It made me realize what a great impact Christian videos can have on kids. It's something that, in this time of electronics and video games, a lot of people (including me) seem to have forgotten. I was thinking about how we could begin to incorporate Christian videos into our family life again, especially for Jacob our youngest, when I remembered that I was chosen to review the
Theo Vol. 1: God's Love
DVD from
FishFlix.com
.
FishFlix.com is a great company that distributes, as it's tagline says, "Christian Movies To Inspire and Entertain". We have reviewed some of their videos before and have always been pleased.
Theo Vol. 1: God's Love
is no exception. We were very pleased with it as well.
Theo Vol. 1: God's Love
is actually three short videos and one bonus video all wrapped together with a fantastic booklet that provides discussion questions and devotional ideas that you can use for a full week. I was pleasantly surprised at all that was included in one small package. Joshua and Jacob loved the videos so much that they practically begged to keep watching them so we ended up viewing and discussing them all in one setting. You could, however, view and discuss one video and then use the daily devotionals to continue talking about the theme and learning from God's word for the next seven days.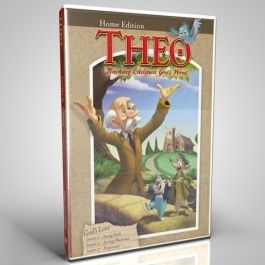 As the title suggests, all three of the videos along with the bonus video have to do with God's Love. The videos feature Theo, a kind, elderly, professor man, his two mice friends Luther and Belfry and a cute little unnamed blue bird. The stories usually revolve around some predicament that Luther and Belfry have gotten themselves into and how Theo uses their problem to teach them a lesson in Biblical values.
Each video lesson is approximately 10 minutes long and opens with the predicament, continues with a very well done animated Bible story and then closes with Luther and Belfry hopefully learning the Biblical lesson.
Lesson One - Saving Faith - In this episode Theo teaches about genuine saving faith through the story of Abraham and Sarah.
Lesson Two - Loving Obedience - This episode deals with obedience. Theo uses the story of Jonah to teach Luther and Belfry about obedience since they seem to get into trouble wherever they go.
Lesson Three - Forgiveness - The story of the forgiven but unforgiving servant is the Biblical emphasis for this episode since Luther and Belfry need to learn how to forgive each other.
Bonus Episode - The Good News! - The bonus episode is all about God's saving grace.
As I mentioned before, each lesson, excluding the Bonus Episode, comes with a Parent Guide that includes an introduction to each lesson, scripture references, discussion questions, a family activity, final thoughts, a closing prayer, and a weeks worth of nightly devotions to extend the lessons. They were all very well written. We enjoyed the discussion questions and the family activities are well chosen to accentuate the lessons theme. I am planning to redo the lessons with my youngest and use the very interesting and thought provoking devotionals.
Theo Vol. 1: God's Love
is a keeper with us. The kids are already asking if I can order volume's two, three and four. As I mentioned before we have enjoyed every video we have gotten from
FishFlix.com
and plan on ordering more great features from them. To find out more about
Theo Vol. 1: God's Love
or
FishFlix.com
, just click on any one of the highlighted links in this post. Other members of the TOS Review Crew reviewed other titles from
FishFlix.com
and you can find what they had to say by clicking on the banner below. Happy Watching!