Many of you know that I have the great privilege of being on the Schoolhouse Review Crew and have the great opportunity to review homeschool curriculum and resources from some fantastic companies. Science has never been my thing, but this year I found three great Science curriculums and three great Science resources all through being on "The Crew".
Science Curriculum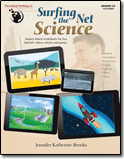 1. Surfing the Net: Science published by The Critical Thinking Co. – This is fantastic! It teaches you how to safely surf the internet for great information and it teaches you Science at the same time! It's also very flexible. Jacob developmentally delayed in many areas and we are listing him as second grade. However, he is advanced in Science. Joshua has a lot of comprehension problems because of difficulties brought on by his autism. So, they kind of meet in the middle and I am using and adapting it for both of them. Click on the title of the book for more information from the company and click here to read my full review.
2. Science Unit Studies for Homeschool and Teachers published by Funtastic Unit Studies – Are you looking for something that is easy to use and easy to teach? Something that has experiments that basically involve things around the house and that don't require you to mortgage the house to buy science equipment? If you answered "yes" to either one of those questions then this is for you. We love it because many of the units go right along with other things we are using so we can use them together! Click on the name of the book to visit their website and click here to read my full review!
3. SchoolhouseTeachers.com – We absolutely love this site! It has opened the doors to us in so many ways that it is unbelievable! This wasn't actually a review item, although I written facebook posts about how we use it, this was a perk given to us since I am a review for the Schoolhouse Review Crew, however, we are so glad that we have it. It has dozens (if not hundreds. I didn't count.) of courses on every subject matter available developed by top name teachers from the homeschool and academic world. So, this isn't just a science course resource, this is an entire homeschool resource. You could literally teach your entire homeschool with materials found here. Check it out by clicking on the name above. If you have any questions about how we use it, leave me a comment and I'll get back to you.
Science Resources

1. Smartkidz Media – This is a resource that has become invaluable to our homeschool. Again, it is not just for Science, but can be used as a resource for many other subjects. It has 100's of videos, musical recordings, online books and other resources for you to use in your homeschool. And they are adding things all of the time. Just now I went to check them out and found a really neat video that goes along with something we are studying at the moment. I can't wait to watch it with the kids! Just click on the name above to check this out for yourself and click here to read my review.
2. Rightnow Media – is another resource that has become invaluable to us. This is another site that has 1000's of Christian videos and Bible Studies on it. They have partnered with Homeschoolteachers.com to develop homeschool curriculum around some of their videos. Jacob loves their science videos that are produced by Phil Vischer from VeggieTales. We have used some of their other videos for history this year as well. This is one of those that I didn't review so I don't have a full post about it, but, take my word for it, it is great! Click on the name above to get to their website.

3. Super Teacher Worksheets – is something that I know you will turn to time and time again as we do. It has more than just science worksheets, but I'll just focus on the science for right now. Have your kids ever watched a video on something or read about something and wanted to know more about it? Well, Super Teacher Worksheets is just the thing that you need. It is much more than worksheets as well. You could almost build an entire curriculum around their 1000's of worksheets! Check it out by clicking on the name above and click here to get to my full review.
I hope you find something useful! Let me know if you do. I'd love to hear from you! I want to add a bit of a disclaimer. I am an affiliate with some of the companies above and some of the links above contain my affiliate link. I only affiliate with companies that I really think are awesome and are family friendly. If you see something with any of these companies that is not family friendly or is questionable, please let me know.