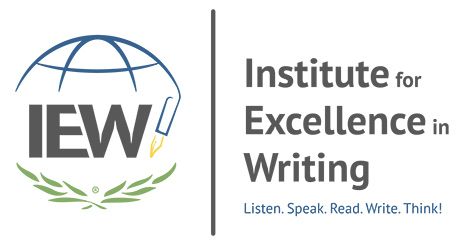 John Allen, my oldest, has always been a writer. He took to it like a duck to water and is always looking for ways to improve his writing skills. Joshua, my middle son who has Asperger's Syndrome hasn't always been that interested in being an author. He is very smart and creative, but he would rather watch a history documentary or read an article about the things he is interested in. Imagine my surprise when Joshua approached me a couple of months ago and told me he was writing a book. He had a dream the night before and that inspired him to write it down and continue the story. Since we are somewhat of (but not totally) a delight driven homeschool, I went out in search of ways to assist him in his writing skills.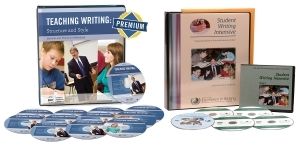 What we received – What did we receive? Everything in the picture above and more! I was almost overwhelmed at the wealth of material that we were given to review and wasn't sure how I was going to get through all of it. Of course we weren't expected to view and use everything completely in just five or six weeks, and I Joshua and I got further than I thought in the time that we had to use and review everything.
As usual everything we received from IEW for this review looks very professional and is done in a very professional manner. The particular package that was sent was put together to help special needs students and, as you'll read later, did just that with our Joshua. Here are the different elements that were sent with a description of each.
Student Writing Intensive Level A – Benjamin Franklin wrote in his autobiography that he learned to write by reading newspaper articles, breaking each sentence into three key words, then, without looking at the original, rewriting the story. He would then compare his newly written article with the original and evaluate himself. That is exactly what we are doing with Student Writing Intensive Level A designed to help students who are doing 3rd to 5th grade work.
I really like the way this course is set up. Everything that I need as a teacher is there, and everything that Joshua needs as a student is there as well. The videos are wonderful. Andrew Pudewa, the main presenter and director IEW, is filmed teaching a classroom of actual 3rd – 5th grade students. There is some interaction with the students but he also interacts with the audience at home as well. Joshua feels like he is actually in the classroom. Andrew Pudewa is also very humorous and makes learning fun.

He begins right away to teach the students how to look at a short passage, break each sentence up into no more than three key words, and then rewrite the story using those words. They continue to do this in each lesson, which may seem boring, but he continues to add things that he wants included in their paragraph when it is rewritten. He has a list of banned words that aren't to be used but instead the student is to use more exciting words that will make the story more interesting. For example, "said" is banned and is to be replaced with a more exciting word such as "shouted" or "gasped". He also teaches the students to use a "who, which" clause to make the story better. In another lesson he instructs them on how to use adverbs and has a huge list of adverbs that the writer can choose from. So, as the student is breaking down a story and then rewriting it, he is learning and using more and more skills to make the story better. Joshua is getting to the stage where he needs extra practice before moving on. I like the fact that there are other stories that are provided for us to use on our own if need be.

You may wonder why he is having them rewrite stories instead of teaching them creative writing and how to write a story of their own. It is because he wants to teach the elements of how to write a good story and paragraph first. So many times kids are handed a blank sheet of paper and told to write a story only to encounter writer's block and end up a miserable mess. This gives students something to write about and use the skills that they are learning. It is very ingenious and Joshua is loving it and learning a lot. Later in the course, after the students writing skills are developed, Mr. Pudewa does transition into doing more creative writing.
Teaching Writing: Structure and Style – I must admit that I am the type of person who likes to jump in and teach. As I mentioned above, I had reviewed a more advanced level of the Student Writing Intensive with John Allen some time ago so I had a knowledge of what to do and began teaching Joshua right away. It wasn't until a couple of weeks into things that I began to explore Teaching Writing: Structure and Style. Teaching Writing: Structure and Style is a whole other course teaching parents and teachers how to teach the IEW method in their home and classroom. It was filmed in front of a group of teachers and parents and is just as professional and well done as the Student Writing Intensive.
I really wish that I would have began to watch this from the start. Mr. Pudewa progresses in the same order as the Student Writing Intensive and not only instructs step by step in how to teach your student and introduce new ways to make their paragraphs better, but also instructs on the philosophy behind why they are doing what they are doing. Again, everything is included. You are even given a very sturdy binder with tabs, similar to what the student receives, to organize everything. From now on I am going to make sure that I am watching the section in

Teaching Writing: Structure and Style that corresponds with the section that Joshua is working on. It will help so much in answering questions that Joshua has.
How we used it -
Joshua – In the packet that we received there is a suggested schedule on how to use the Student Writing Intensive. I didn't go by that schedule at first and probably pushed Joshua a little too hard. We did get through much more in the weeks that we were given to review this, but I think afterwards I am going to go more with the easier paced schedule. Joshua loves Andrew Pudewa and his humor and had no difficulty watching the videos and keeping up that way. With his small motor problems, however, the writing assignments were more difficult. Although he usually didn't complain a lot, I knew when he had enough and needed to stop. The one frustrating element was when he was copying the rough draft of each story for his final draft. The instructions are to do everything in pen and if Joshua made a mistake he would sometimes become very frustrated and fall apart. This is where I think I am going to have to break from the curriculum a little and allow him to use erasable pen. I understand the philosophy behind only using pen but with a child that has small motor problems it sometimes just doesn't work. All in all, though, I could leave Joshua to do much of the work on his own and then check on things when needed and he did just fine. I could easily assign him to do something before I left for my part time job and then check it when I got home. I was really thrilled with that.

Tim – As I mentioned above, I didn't begin watching the Teaching Writing: Structure and Style videos and working through the course until a couple weeks into the review period. I do not recommend that at all. You don't have to purchase this program along with the Student Writing Intensive, but if you do I would recommend watching the videos on how to introduce something to your child before it is introduced to him so that you understand what is being taught and why it is being taught and you can better answer any questions that he might have. That is what I am going to do from here on out.
What we think – We are thrilled with IEW's Teaching Writing: Structure and Style, Student Writing Intensive Level A and are looking forward to using it for the rest of the school year. Joshua loves it and I can see improvements in his writing already in just the few short weeks that we have been using this course. With Joshua having Asperger's Syndrome and being on the autism spectrum, I was a little nervous as to how he would do with this course, but this is something that he wanted to learn about and he is doing surprisingly well. I am glad that I chose the level that was written for students a little younger than him though. He didn't seem to notice the age difference of the kids on the video, and this level was a much better fit for him.
I would definitely recommend IEW's Teaching Writing: Structure and Style, Student Writing Intensive Level A package to any homeschool family or co-op. It has been a great success in our household with both John Allen and now Joshua. To find out more about this great program, click on any of the highlighted links above. Many of the Schoolhouse Review Crew members and families reviewed other levels and other packages from IEW and you can find what they had to say by clicking on the banner below. Happy Writing!