As most of you know, we travel a lot and visit a lot of really neat places. Unfortunately, though, other than on my blog, we haven't done much to record our travel memories. That's why I was thrilled when we were chosen to review the Exploring Creation Field Trip Journal from Apologia Educational Ministries. Let me tell you, this book is really neat and has a bunch of ideas on how to record your favorite things about the places you visit. Before you get any preconceived ideas as to what this book is all about, though, let me just tell you that it's not exactly a scrapbook, nor is it a journal. Really it's a book that you can use however you wish and to journal whatever you wish. First let me describe all of the features that the Exploring Creation Field Trip Journal has and then I will tell you how we have used it so far. Boy will it take a long time to fill this thing up – even with all of the traveling that we have done!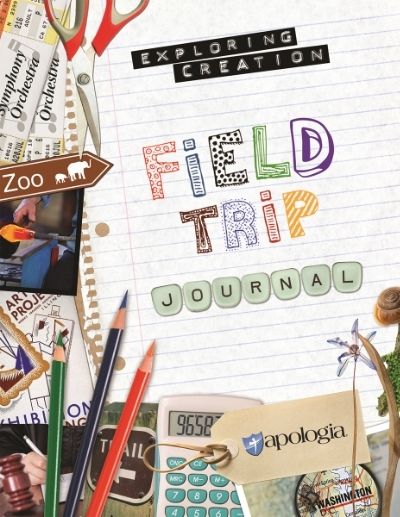 As with any
Apologia
product that I have ever bought or reviewed, this book is beautiful and well made. As you can see in the picture above, the cover is very colorful and the 64 heavy duty paper pages that are inside are colorful as well. Everything is sturdily spiral bound together.
The book begins with a section titled "Preparing For A Field Trip". Although this section is written primarily for teachers preparing for a field trip with their class or a homeschool co-op parent preparing to take a group of homeschoolers, there are many things listed that apply to parents and families. We have only used our Exploring Creation Field Trip Journal for past field trips but are planning on using the great ideas listed for future excursions.
Following "Preparing For a Field Trip" is another neat section that lists dozens of suggestions for field trips ranging from your own back yard to around the world. It not only lists unique places that you may have never thought about, but also makes you think about near and far places on your own.
Places I've Explored Maps – This area has ready made maps for the United States and the World, and has a space for you to draw or paste a small map of your state. On these pages you can list the places you've been to on the lines provided and then pinpoint them on the map. I am looking forward to sitting down with my family to recall all of the wonderful places we've visited and to actually have a map to show the territory we've covered.
Field Trip Pages – These pages are what we have used the most. The section is divided into smaller two page units for each field trip you have been on or are planning to visit. One page has a space for planning and preparing for your trip – including listing books that you have read to learn about your destination and make your visit more interesting; posting a map ahead to locate the specific areas that you want to visit and prepare a meeting spot in case your group is separated; and a spot to add pictures. The other page has room to write about your trip and has a section to record something that you never want to forget.
My Special Spot Pages – This is a really neat section where a child picks a favorite outdoor spot and journals the changes he sees in his special spot though the different seasons of the year. I really like this because it shows a child that a "field trip" can be in your own back yard. It doesn't have to be a huge museum or park.
As I See it Pages – Sometimes a child just wants to be creative and remember a field trip in his own way without any pre-set guidelines. If they want to draw a picture of what happens or paste pictures or souvenirs then they can. Some pages have simple prompts for the child to think about but they don't have to use them if they don't want.
We have had a wonderful time using this book and remembering all of the places we have gone. Joshua was the colorful one. He chose to use different colored pencils to write with as he was describing our visit to Niagara Falls, Canada. John Allen was my literary son and chose to write about a day we spent at Dollywood in great detail. Jacob and I talked about some of the many zoos that we have visited and he is planning on drawing a picture of one of our zoological adventures. My next step is to sit the family down to list all of the places that we have visited in the United States and Canada. Since we finally bought a new printer after spending the past couple of months futilely trying to fix our old one, we can now print out some pictures to add to our pages.
I don't think there is any doubt that Apologia's Exploring Creation Field Trip Journal is a hit with our family. It is just what we need to keep a record of all of the adventures we have gone on. It has also inspired me to think outside of the box when planning new field trips to explore God's great creation.
To learn more about the Exploring Creation Field Trip Journal or any of Apologia's materials just click on any of the highlighted links above. You can also click on the banner below to find out what other members of the Schoolhouse Review Crew have to say about this great resource. Happy Field Trip Planning!