I remember typing class. I loved it. Everyone that took the college prep track in highschool had to take it. I don't think I would have been cut out for the secretarial thing, but for some reason the typing class was one of my favorite classes. Little did I know how valuable that class would be in the future. It would be another five – ten years before the personal computer was invented but now it seems like they have always been around and are an everyday part of our lives. A person can't get by in this world without learning some type of keyboarding. These days keyboarding is being taught as early as kindergarten. So, when I found out that we would be reviewing The Typing Coach Online Typing Course from The Typing Coach I was excited. We have used other typing courses before but it just didn't seem to be the right time in the boy's education to use it. This seemed to finally be the right time and I was hoping it would be the right course.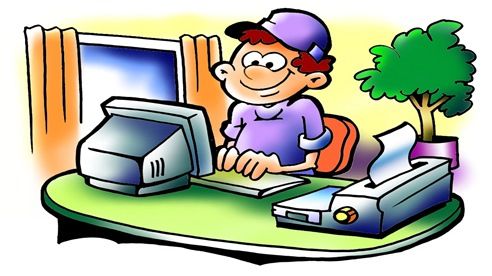 Okay, having said all of that, I tried a couple of the lessons to see what it was like. I thought I was a pretty proficient typist. After all, I type all of the time for my blog and other things. But! I didn't even pass the first test! Ugh! This course is easy to follow but it is very complete! I think I am going to have to work through the whole thing and bone up on my typing skills.
I mentioned that this course is easy and complete but I didn't mention that it is also a lot of fun. First of all, it is easy to use because everything is laid out right for you step by step. After an easy registration you just open up the home screen and it is all laid out for you. After some introductory audios and videos that need to be listened to and watched and after a very few things need to be printed out (trust me there is not much – it won't break your printer ink budget), you will be on your way.
There are seven main lessons in this course along with a preview section to evaluate where you are at the beginning, a serious practice section where you get in some serious practicing before taking the final examination, and then the final examination itself. I suppose that a good typist that is just using this as a review could finish this whole course in one to two weeks, but I wouldn't recommend that. The course instructor suggests taking about one lesson a week and practicing throughout the week.
The seven main lessons are:
Having Good Posture – you also learn proper hand positioning here.

Home Row

Top Row

Bottom Row

Shift Keys

Typing Practices

Number Row
Did I mention a course instructor? Yes, there is actually one and he is marvelous! During each lesson there are audios that the student listens to (sometimes there are even videos!). These audios take you step by step through the lesson. For the lessons that I did, there was practice during the audio, then there was practice while looking at one of the sheets that was printed out. While you practice with the printed out sheet soft music is playing on the audio. Are you wondering how you can be typing in a word processor while listening to an audio as well? It really is very easy and all of that is explained in the lesson. When you are done with the lesson and think that you are ready for the test, you go to a special website to take the test. After the test is taken the results are immediately but if you want the results emailed to you there is an option for that as well.
I know all of that may be hard to understand, but it really is easy once you get started. I am loving working through it. I'm not loving the mistakes that I am making and realizing that my typing isn't all that it is cracked up to be, but I am enjoying the course. I also really like the fact that the creator and instructor is very accessible. Although everything is computerized and a live person really isn't involved, you can contact the instructor and he will answer any questions that you might have. I had to contact him and, wow, I don't think he ever sleeps! It was late one night when I contacted him about something and he responded almost immediately! And he is super nice!
I think you have figured out that I love this course. If I can, I am going to have all of my kids take this at one time or another. Yes, I have special needs children, but, did I mention, there is also a special section that you can click on where everything is done at a slower pace for younger or special needs kids? This course is awesome!
To find out more about
The Typing Coach Online Typing Course
from
The Typing Coach
just click on any one of the highlighted links above or check out their social media sites by clicking on one of the links below. You can also find what other members of the Homeschool Review Crew thought by clicking on the banner below! Happy Typing!
Social Media Links: