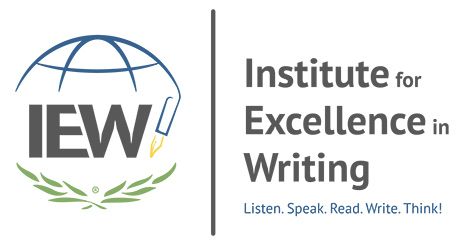 We have been blessed with being able to review writing curriculum and spelling curriculum from the Institute in Excellence in Writing (IEW) before and we have loved everything that we have reviewed. However, we have never reviewed any of their resource items. In fact, I never knew that IEW had any resource items until we had a chance to be chosen to review a resource pack of three individual items from this great company. Let me tell you right up front that we were totally blessed. The three items that we were able to use and review were Timeline of Classics, Teaching With Games Set, and A Word Right Now. I would buy any of these items without hesitation – they are that good! Let me talk a little bit about each one and how we have used them.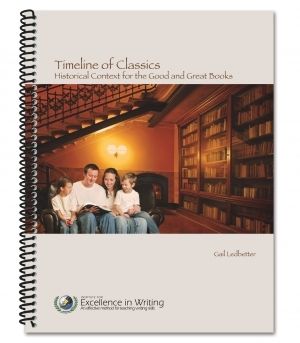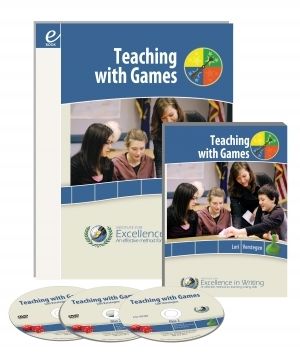 We were blessed to receive the two DVD/ one CD set of a seminar given by the author, Lori Verstegen. The two DVDs have over two hours of information and ideas on creating your own games to be used to teach or review any subject you can think of. Each category of games – "No-Prep" Games. Matching Card Games, Question Games, Math Facts Games, and "Make As You Teach" Games - have at least three games listed that can be adapted to make dozens of different games that you can play at home with your children, in a co-op group, in a Sunday School or Bible Club, or in a regular classroom setting. I love the way the presenter involves all of the participants of the recorded seminar. As she explains all of the games she also has the attendees playing them.
The CD has all of the handouts from the seminar that includes instructions, rules and samples for all of the games talked about and demonstrated on the DVDs but we were blessed to be given the 117 page spiral bound book (that can be purchased separately) instead of having to print out all of the pages from the CD. While watching the above described videos I would sit with my book and follow along. The book has the same handouts and descriptions as the book the participants are using on the DVD's so it was easy to keep up and learn.
We have loved trying out the games. Just yesterday we were playing one of the "No-Prep" Games and they begged to play it again. I can't wait to play the Geography Game with Joshua since he loves Geography. Games are perfect for my two youngest because of their different ways of learning. Games are really perfect for any child, though, because as Ms. Verstegen says on the CD's, studies show that students retain 90% of what they immediately use and apply. Playing games requires students to use and apply information that they have just learned. We are loving this resource.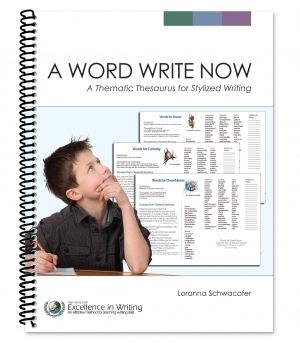 Section A – Character Traits contains 23 traits that cover everything from Anger, to Curiosity, to Gossip, to Wisdom. For each trait there is a definition, a thought on that trait, excerpts from Classical Literature and words for that character trait that are Nouns, Adjectives, Adverbs, Verbs, and even what the author calls "Nouns Characters". For example, a noun character for Cheerfulness might be a buddy, a nurse, or Pollyanna among many others. I really like how this section is set up and know it is going to be a valuable tool for everyone in our family, including me!
Section B – Description Words cover words that describe appearance, color, size, time, temperature, texture and shape. I love this section. Since each description word is different, there is no set way that this section is set up. For example, on the Words to Describe Size pages it lists adjectives for Large Amounts, Small or No Amounts, Large Sizes, Medium Sizes, Small Sizes, Open Spaces, Tight Spaces, and Length and Width, Height and Depth words. However, in the Words to Describe Color section it lists adjectives for all of the major colors and then lists adjectives for Attributes of Color such as Dull, Neutral and Strong, then lists nouns for Values of Color and Words for Light. I have never thought of some of these things. I know this will make a big difference in my writing let alone my children's writing.
Section C – Words for Movement and the Senses has words for Feet, Hands, Hearing, Seeing, Smelling, Speaking and Thinking. Again, different things in this section require the pages to be set up differently. For example in the Words for Feet section there are Nouns Related to Feet. You can find Things to Put on Feet, Words for Human Feet, Words for Animal Feet. Places for Feet to Move, and How Feet Might Move. Then it contains Verbs for Moving Feet such as Faster Movements, Graceful Movements, Slower Movements, Awkward Movements and Other Foot Actions.
The Senses sections have a plethora of words as well. Words for Hearing has words for Animal Sounds, Object Sounds, Human Sounds, Loud Sounds, Quiet Sounds, Things that make Sounds, and even has words for Listening and Verb Phrases that deal with sound. This section truly has everything you can think of!
Section D – Appendix is not a section to be skimmed over and not looked at. It has some great information that will help you write well including Playing with Words, Transitions, Prepositions, Literary Genres and Definitions and Examples of Literary Devices.
As you can probably tell from my totally inadequate descriptions above, these three resources are keepers for us that we will use and turn to over and over again in our homeschooling and beyond. You can find out more about these products by clicking on the highlighted links above. IEW is a wonderful company and many other members of the Schoolhouse Review Crew reviewed other items than what I did. You can find what they had to say by clicking on the banner below. Happy Homeschooling!