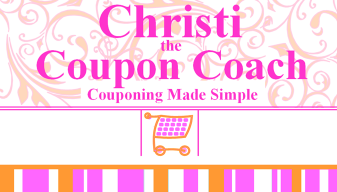 Do you know what a "Blinkie" is? What about a "Peelie"? Do you know what O.O.P. means? What about BOGO? I know what all of these things mean and have learned how to save a lot of money as well! As full time missionaries living on a limited budget we need all the help we can get when it comes to saving money. We also need tools to help the low income folks that we work with save money as well. When I heard that we were going to be reviewing
Couponing Made Simple
by "
Christi the Coupon Coach
" Bassford I was excited because I could then kill two birds with one stone - save money ourselves and teach others how to save as well.
First of all, as Christi explains early on in her book,
Couponing Made Simple
, is not "extreme couponing". You don't have to have a closet full of coupons nor a room full of items that you buy while on sale but may not use for umpteen years. It also isn't one of those on-the-edge-of-illegal deals where you hear of folks getting arrested for illegal trading or copying or something like that. This is just common sense every day smart couponing.
But, what is "common sense every day couponing"? How do you buy $100 of groceries for just $10 as Christi shows many times in her book? I mean, I've clipped coupons occasionally and used them, but never saved anything like that. Well, there is a system and a tried and true method that Christi uses and
Couponing Made Simple
explains it all in simple and easy to understand language.
From buying the newspapers
- Did you know that there are actually different types of inserts that can save you money on different types of things? Did you know that there are websites where you can look and see what types of coupons are going to be in the next Sunday's circulars? (For that matter, did you know that there are coupons that you can print off of computers and that if you have multiple computers you can print they will allow you to print more? I didn't either.)
To organizing the coupons and circulars
- Have you ever put a coupon in a special place only to pull it out and find that it was outdated? This won't happen if you have an organizing system. Don't think that this step has to be hard. It can be simple and not require a lot of things or a super lot of time to accomplish.
To finding the right deals
- Remember, at the beginning I said that this wasn't extreme couponing? Well, in
Couponing Made Simple
, Christie tells you how to avoid buying things that you don't need or seeing coupons and thinking "Oh, this is cute" or "Boy this is a good deal" and buying things even if you don't need them.
To finding the good deals
- Did you know that there are some products like shampoos, conditioners or lotions, where it may look like a good deal but really there is more water in the product than actual product? I didn't.
Couponing Made Simple
has actually made me think about products that I buy before I buy.
To finding the right stores and even the right cashiers
- I knew that some stores were more favorable to couponing than others, but did you know that there are cashiers that are more favorable to couponing and it could make your life a lot easier if you know the right stores
and
the right cashiers?
To making your own bargains
- The real bargains are where you use store specials, coupons, and other things like "double stacking" (Don't know what that is?
Couponing Made Simple
will tell you.). And, it really isn't that difficult to understand or do.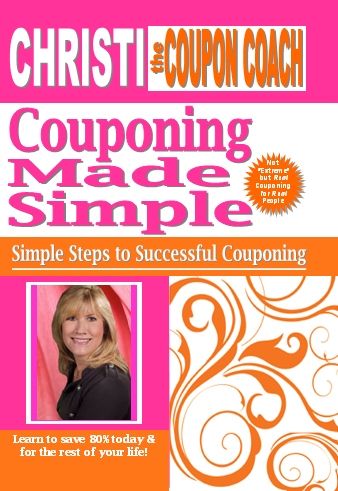 Although we have been on the road a lot during the time that we had to review
Couponing Made Simple
and haven't been able to utilize what we have learned in this book as much as we would like, we have been able to use some, and the little, extra, things that she talks about have really made us think and read labels before we buy. We are looking forward to using her full system when we get back from our travels and settle in for our long "fall and winters nap" of not traveling as much. We are looking forward as well to teaching the ladies that come to the mission we direct on how to use this simple method and the simple ideas that Christi presents in this small but easy to read and easy to use book. I give this a two thumbs up!
So, how much is this small but packed-full-of-information book? It's well worth the price of just $18. Just click
here
or on any one of the hi-lighted links above for more information. Happy Saving!
Other members of the TOS Review Crews "Molly Crew" reviewed this as well and you can find what they had to say by clicking on the banner below.