No, this isn't a post about my
25 Truths
for happy and successful living, it is actually a book review for a fantastic book by Ed Douglas published and distributed by
Ed Douglas Publications
. If you are a friend of mine on Facebook (or even a personal friend) you know that I am trying to be more positive in my outlook on life. Although I have always tried to be a positive person, the past few years my family has gone through some trying times and I realized how down on myself I had gotten. This past year I was introduced to the whole genre of success books and have really enjoyed reading some of them. As with any type of book (or music or anything), however, there is the good and the bad and it is sometimes difficult to sift through it all. As a Christian, I always try to find books that line up with God's Word and don't compromise the values that it teaches. Even some of the Christian success books can go to wild extremes that I don't like.
25 Truths
is fantastic book and is not one of them. It lines up with everything that I believe.
I originally thought that I would give this short, 150 page book to John Allen to read. It's geared toward his age group of 6-12 grade, and I thought he would like the fact that each chapter is only a few pages long and therefore doesn't take long to read. I thought he could use it almost like a devotional book. However, when I received
25 Truths
in the mail and looked it over I decided to take it and read it for myself. What appealed to me about the book? Well, probably that it was just 150 pages and each chapter was just a few pages long and wouldn't take too long to read! No, really, there were many other things, and I am definitely going to hand this over to John Allen soon to read. Let me list what I really liked.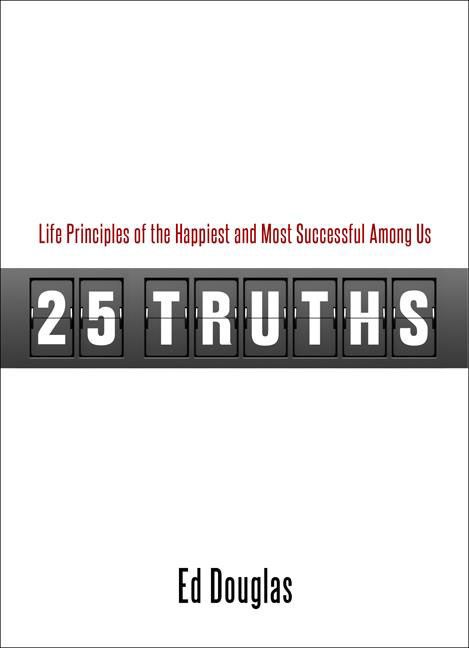 First and foremost, of course, I like that Ed Douglas is a Christian and
25 Truths
is a Christian based book. No, it isn't a theological book filled with scripture references for every single thing he says, but he does use verses to back a lot of what he says and I found that the areas where he doesn't list scripture at the beginning of the chapter are theologically sound as well. The author is a Christian and makes no bones about his Christian faith and beliefs. I like that!
Secondly, as I mentioned before, the book is very easy to read. Each chapter is about 3-5 pages long and are based on principles that Ed Douglas has gleaned from life experiences as a Christian, banker, coach, author, athlete and more. In almost every chapter there is a great story that illustrates one of the "truths" (which I'll get into in the next point) in a great fashion. I found myself reading each chapter and being very disappointed when it too quickly ended. Each chapter illustrates one truth and concludes with a quick summary. The author then includes five or six questions that help you think through your life and how that particular truth applies to you. You can either write in your short answer, or do what I did and just answer them in my head.
Finally, the
25 Truths
themselves are fantastic and timely. Some, such as
Practice - It Makes Perfect
,
Tell the Truth
, and
Be Slow to Judge
, are things that we have heard all of our lives. Others, like,
Take it One Step at a Time
,
Make Every Day Your Best Day
, and
See the Glass as Half Full
were very good reminders of how we should view and go through life. A few chapters didn't have themes that I had heard all of my life and really made me think.
Play to Win
is an interesting theme especially since we find ourselves telling our children to "just have fun" or "if you did your best that's all that counts". You may think, by looking at the title of that chapter, that you wouldn't agree with what he says, but he really makes some great points and I encourage you to buy the book to find out for yourself what they are.
In fact, I really encourage you to buy the book and read it period. It may be short and easy to read, but it is full of excellent reminders of how God wants us to live our lives. Although I didn't find any fault in anything that I read, you may not agree with every jot and tittle in the book. That's okay, though. It will get you to think about what he is saying and, especially about your own life and the little things that you can do to make your life happy and more successful. Probably the thing that impressed me the most about this book was how Ed Douglas included the plan of salvation at the end of
25 Truths
. If you don't read any other section of the book, please read that one. It alone can change your life.
The price of this book will make you happy as well. The $12.50 that you would spend on the book is well worth the price. Just click
here
or on any one of the hi-lighted links above for more information. Happy Reading!
Many others on the TOS Review Crew reviewed this book and you can find what they had to say by clicking on the banner below.