Another little known fact about Tim - I love to read mysteries. I have always loved them. Some of the first books that I read were some of "The Bobbsey Twin" series. I then went on to reading Hardy Boys and other mystery books. I remember finding a book by the author Phyllis Whitney and loving it. She wrote great mysteries for young people. I must have gotten my love of mysteries from my mom who loved reading Agatha Christie novels.
Now for another little known Tim fact - I was never good at science. It's not that I didn't like science, there were many things about science that I enjoyed. I just never made very good grades in any science class. So, when I found that there was such a book as One Minute Mysteries: 65 More Short Mysteries You Solve With Science! from Science Naturally, I was really excited. What I wouldn't have given to have a good mystery novel that helped me learn science! Well, after calming my rapidly beating heart, I decided to assign this one to John Allen. Even though the recommended age is for kids 8-12, John Allen really likes mysteries as well and, like me, has a difficult time with science.
I asked John Allen to write a short review of what he liked about One Minute Mysteries: 65 More Short Mysteries You Solve With Science! that you will find below. I will then elaborate more at the end of his review.
I enjoyed reading this interesting book. You read a short story that always involves science. At the end there is a question presented to you that you must answer. Turn the page to find out if you are correct or incorrect. One story talked about a boy and his family going on a whale watching trip. After the captain saw on the sonar that whales were heading toward them, the sister wanted to know how everyone was so sure that the whales would come up to the surface. She thought that, since they were fish, they wouldn't need to come to the surface. Her brother, however, was sure that they would come up. Who do you think was correct? You'll have to read the book to find out.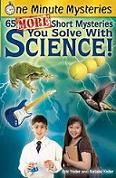 I would have to agree with John Allen that this award winning book is very interesting. This is the third book in the author's, Eric Yoder and daughter Natalie Yoder, "Mysteries You Solve With..." series. There is another Mysteries You Solve With Science book, and there is also a Mysteries that You Solve with Math edition. The book is divided into four "science" sections - Life Science, Earth and Space Science, Physical and Chemical Science and General Science - with 15 stories in each. A Bonus section with five more mysteries makes up the total of 65. As John Allen said, a short fictional story that includes science with a mystery that you must solve before turning the page. When you turn the page the story concludes with the scientific answer to the mystery.
As I mentioned before, the suggested age level for this book is for kids from age 8-12 but I think that readers of any age would be fascinated by these great mysteries. I know I was! In fact, I really didn't think that my two youngest, who are both on the autism spectrum, would be interested in
One Minute Mysteries: 65 More Short Mysteries You Solve With Science!
but I was totally wrong. As I was writing this review I got them together and read the whale story that John Allen mentioned above. I thought I would have to do a lot of explaining on how whales are not mammals etc. but boy was I mistaken. Joshua piped up right away and was able to give me the answer. Instead of "Oh ye of little faith." I think it should be "Oh me of little faith!" I'm going to include this in their homeschool. This will be a great supplement to their homeschool science!
Now, of course One Minute Mysteries: 65 More Short Mysteries You Solve With Science! from Science Naturally can be read by homeschoolers and non-homeschoolers alike, but the only experience that I have is from a homeschooler's perspective. I know that a typical homeschool science book can cost a lot! Fortunately this book does not cost a lot. It's only $9.95! Such a deal! Just click here or on any of the hi-lighted links above for more information.