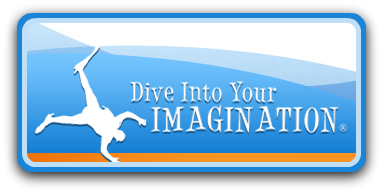 We had the privilege of reviewing a great series of videos from Dive Into Your Imagination. Usually I tell you all about what we thought of a product and then direct you to the TOS Homeschool Crew Blog where you can find links to what other TOS Homeschool Crew members thought about the products. This time I'm going to link to the Homeschool Crew links first and then tell "our story". Please, though, don't just click on through to the other reviews but finish reading this review first. I think you'll find that "our story" may be a bit different than the others. We have a different view on these videos and curriculum, so do please read to the end.
You might find that the other crew members will talk about the beautiful video that they received. These videos are well done and beautiful. They are made by Annie Crawley aka "Ocean Annie". We happened to receive the video "Who Lives in the Sea?". These videos are well done with so much information. In "Who Lives in the Sea?" you can Swim With the Dolphins, have Playtime With Sea Lions, or learn about the Dinosaurs of the Sea: Marine Reptiles or Marine Birds and their Families. Those are just four of the eight sections of this DVD. Another really neat thing about this video is that it has three different sound tracks - an English Version, a Spanish Version and a Music Only Version. So, you can watch it to educate your children or just play the music only version for a relaxing time with your family. This video was recommended for children 3-8 but please don't go by that - everyone in your family will love this. And, have a mentioned that the video's are beautiful? Here is a sample of the video that we received:
The other TOS Crew members might talk about the fantastic "Educators
Guides
".
The guide that we downloaded for "Who Lives in the Sea?" was over 300 pages. Yes, I said over

300

pages long! And it is packed full of wonderful information and has awesome ideas. Really it has everything that you can think of. It has recommended crafts, games, imagination play, and much, much, more for each section of the video. And it involves every sense that you can think of. Just for the first part of our video - Swim with the Dolphins - you learn about the character trait love, learn 12 vocabulary words from the treasure chest, feel the different textures of different sea creatures, dance like a dolphin and, play "Dolphin Go Seek" to use your sense of hearing. And, yes, those are just a few of the things that you can do just with the very first part of this video. There are many more things that use other senses of your body, teach cooperation with others, use your imagination...etc. etc. There are so many choices that if you used them all, you could be spending month on each section! Hey, then you could use this as a whole curriculum...hmmmm...that's an idea!
Or, the other TOS Crew members may talk about Ocean Annie herself. Just reading her biography on the Dive Into Your Imagination website is inspiring. Raised in inner city Chicago in a row house, there wasn't much opportunity for Annie to get into the nature that she loved. But, Annie used her imagination and had archaeological digs in her back yard, had a tree climbing club in the local park, spent her Saturdays in museums, aquariums and zoos and her summers camping. Later in life she had the opportunity to travel the world and do and learn many things. So, what led her to become an internationally renowned scuba diver, underwater photographer and speaker/educator? You'll have to go to the website and read her biography for yourself.
I'm sure the other crew members will talk about the wonderful prices of these videos. The one that we reviewed was just $19.95. And, I'm sure they will mention that the price of the fantastic educator guides is usually $69.95 but that you can receive it for free just by mentioning in the "notes" section that you are a homeschooler and that you would like to receive it when you order the video. You can do all of that by clicking here or on any one of the hi-lighted links in this post. Please, though, don't stop here - read below about what Jacob and I thought of this product.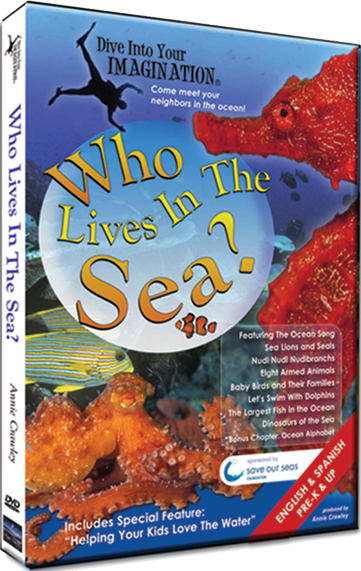 As I said before, our story is a little different than what you'll read in the other reviews.
We have been blessed to receive many products over the years from the TOS Homeschool Crew to review. Many of them have changed our lives and the way we homeschool. Usually we are assigned a specific product based on the age of our children and the circumstances of our family. Occasionally, though, we are able to choose a product that we would like. Sometimes we'll be able to choose a book from a series or, in this case, we were able to choose which video from Dive Into Your Imagination that we wanted to review. We had the choice of several. When these decisions have to be made, usually I will make them since I am the main teacher in the household. This time, however, there were sample videos that we could watch to help us make our decision so I decided to include the kids.
Since many of the were for younger aged children I called Jacob, our six year old that is on the autism spectrum, to sit and watch with me. He was a bit reluctant and tense at first, but, as soon as the video began to play his body began to relax and he snuggled up against me. We had a wonderful time watching each video and listening to the wonderful music. We loved hearing the descriptions of each creature and we loved talking about the marine animals that were being displayed. We would often rewind each video sample over and over again in order to watch it again and would always learn more or see something that we missed before. Still, even months later, we talk about the sea anemones and other things that we learned about.
We watched and watched and learned and learned and discussed and discussed. Just me and my youngest son. With a child that is developmentally delayed and is very phobic, times like these are few and far between. This time, however, was one of those special times.
At the end of our watching and snuggling, when it was finally time to go to bed, Jacob said the words that I love to hear - "Daddy, can we do this again tomorrow?"
Of course, I said "Yes".
What he didn't realize is that we would be receiving this wonderful video to review. We have and will have many more watching and snuggling sessions to come. Just me and my little six year old son...
And that will be worth it all!
Disclaimer: As a member of the TOS Homeschool Crew I was sent a free copy of "Who Lives in the Sea" and a free download of the "Who Lives in the Sea" educators guide in order to review and give my honest review on this blog.