You've read about Marge and Babs before. They're the two homeschooling friends that always seem to find a way out of all of their problems. It's usually the TOS Homeschool Crew that helps them somehow. Well, this time the two ladies have gotten the summer doldrums and, to their displeasure, so have their children. Let's listen in on one of their conversations.
*Scene One - Late one hot Wednesday afternoon in June sitting at the counter in Bab's kitchen sipping a cold glass of sweet tea.*
Marge - Ugh! We are only into the second week of our summer break and my kids are already bored! We"ve already been to the library twice and if we go one more time to the pool I think they will turn into fishes.
Babs - Don't you know it. Honey, my kids have gone to every VBS possible and have already been to three of them - two of them had the same theme and everything. If they sing that silly mermaid VBS theme song again I think I'll scream!
Marge - *sigh* I feel for you. This is the time of the summer where I could kick myself for not homeschooling year round. I just can't bring myself to doing that to the poor little things. My kids just need a break for a little while. I know we'll have fun on vacation, but that's not for another month. I need something for them to do other than sitting in front of the TV or playing video games all day long. Something that will exercise their mind without seeming too schoolish.
Babs - Well Honey if you find somethin' then please pass it on to me. I've had about all I can take from my youngins this summer and it's only just begun!
Marge - Hey! You know what? I just remembered I pulled out a subscription card from some magazine at my doctor's . office called "Creation Illustrated". It looked really interesting. My doctor is a Christian and she says it's a great magazine. Let's see, where is that thing in this purse? Aha! Hear it is.
Babs - I think I read something about that on the Homeschool Review Crew's new website. Let me see that card. It says something about a free issue. Hey, Marge, let's send it in. Maybe the kids will like it. It's worth a try.
Scene Two - One week later at Marge's Back Door
*Knock. Knock*
Marge (Opening the door) - Babs! What in the world happened? You are as red as a beat.
Babs (Waddling in slowly) - Don't touch me! Don't touch me! Just pull out a chair for me to ease into. I knew it was a mistake to take the kids to the pool for the fourth time. I use sunscreen. I sit under an umbrella. I cover myself up. The kids swim in the hot sun all day. Who gets the sunburn? Moi! That's who! Anyway, why'd you call me over?
Marge - We got that free magazine yesterday. You know the one called "Creation Illustrated"? Babs, it is a really neat magazine! I'm already thinking about ordering it. I was reading it yesterday and it has a recipe section with healthy recipes. It's called "Genesis Cuisine" and it teaches you how to eat the way God intended for us to eat! And, you know what the featured food was for this month? GRAPEFRUIT! You know how I love grapefruit. There was even a recipe for grilled grapefruit! I'd never heard of such a thing. Last night we had a cookout, though, and I tried some. It was delish!
Babs (Grabbing the magazine) - Let me see that thing. Look at this! Here's an article called "God's Light Show" about the summer night sky. You know my Johnie loves astronomy. And...look here...there's even a children's story that little Penny would love!
Marge - I know! I saw that! I looked through it last night and Creation Illustrated is divided into three sections. There's "Creation in Nature", "Creation in Scripture" and "Creation in Living". It teaches you how to use creation to prove scriptures and how to tell others about God. And, you know how Mikey is always talking about conservation? There's even a section on how to take care of the earth from a Christian perspective.
Babs - Well, Honey, I did a little research on my own. You remember how we saw that the Homeschool Review Crew had reviewed this. Well, I looked up some of the reviews... 
Marge - Oooo...did you look up the one written by that hunk Tim Tinkel? You know he posted a new picture of he and his boys and they are cute! They are caaauuuutttte! Boy would I like to hook some of my girls up with his boys...
Babs - Earth the Marge! Earth to Marge! Focus! As I was saying, the Homeschool Review Crew really liked it! I'll tell you what. I'll keep the magazine for three days and then you can read through it for three days. We'll get back together next Tuesday and compare notes.
Marge - But if we each kept it for three days that would be next Wednesday!
Babs (With a mischievous grin) - You already had it yesterday and I can't wait! It's next Tuesday!
Marge (With an equally mischievous grin) - Now listen sister!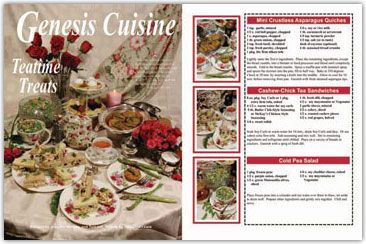 Scene Three - The next Tuesday (Babs won) at Marge's kitchen table.

Babs - So, what did you think?

Marge - Oh my goodness! I love the series they are doing on the days of creation. Although the article about "The Creation of Creeping Things" did creep me out a little!

Babs - Oh, Honey, I know...

Marge - And Debra is going to love entering the Youth Photo Contest. That is right up her alley.

Babs - So, you're going to...

Marge - And you know what picky eaters my family is. Can you believe that they loved the Savory Mushroom Pepper Cupcakes?
Babs - Oh my kids loved the...
Marge - And I'm planning on using Creation Illustrated and it's "Instructional Guide" for the youngers and their science this next year. It's going to be a great supplement. I just wish it were more than a quarterly magazine!
Babs - Oh, Honey, I know...
Marge - And the article about that lady who was a volunteer...
Babs - Earth to Marge! Earth to Marge! Focus! Come up for air! So, are you going to order it?
Marge - Order it!?! Sister, I already have! You can't beat the price. A one year subscription is only $19.95. My kids devoured the free copy. I didn't have to take them to the pool once last week. They were too busy reading and photographing and conservationing and naturing...oh, and listen Babs...!
Yes, you, too, could be like Marge and Babs and order
Creation Illustrated
or ask for a free copy to check it out. Just click
here
or on any one of the hi-lighted links above. If you want to see what the other TOS Review Crew members had to say about it just click
here
. You can even read what that hunk Tim Tinkel and his cute boys thought (Oh, that's right, you're already reading that one aren't you?).
Disclaimer: As a member of the TOS Review Crew I was given four free copies of Creation Illustrated in order to try out and give my honest review on this blog.