I have said this a lot of times before but it is worth saying it again and again. We love to read and reading is worth it. I was just at a missionary meeting yesterday and the speaker said that still, in the day and age that we are in, that illiteracy around the world is getting worse instead of better. I won't get into that right now, because that isn't what this review/post is about, but it is worth saying that making sure that your children can read, understand what they read, and just plain old read, read, read, should be one of the main goals of a parent.
Progeny Press
does just that with its great book unit studies and it does it in a fun way. John Allen has enjoyed working with the unit study that we were sent and I have been really impressed with it as well. I don't usually do a "What John Allen liked..." and "What I liked..." type review, but it really fits this time around and, since I like to mix up the way I write my reviews anyway, that's the way this review is going to be written. So, here goes...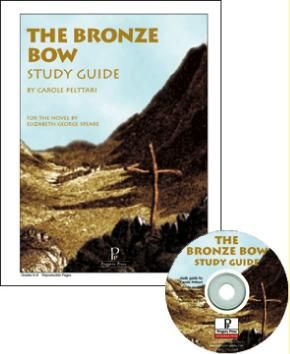 What John Allen likes...
First of all, he really likes the book we reviewed. I make a lot of mistakes in my parenting and in my homeschooling. One of the things that I really am a stickler on, however, is the books that I allow my children to read. We really try to read good, "living", books. The Bronze Bow is one of those books. Elizabeth George Speare is a great author. John Allen has loved every one of her books that he has read. Again, though, this is not what this review is all about. I mention it, however, to let you know that the type of literature unit studies that Progeny Press publishes are from good literature. If you are looking for studies that go with some of the sappy, ridiculous, novels that some authors write today, you won't find them at Progeny Press. They are a Christian company, and, although they don't stick to totally Christian books, they do have standards as to what books they write study guides for.
John Allen also liked this unit study becuase it used the PDF format that allows you to type in the answers right on the computer. We had the option of printing out each worksheet or he could just complete it on the computer. Since he has to write in so many other areas of his homeschooling, he really appreciated the fact that he could just sit and type at the computer rather than have to use pencil. There are a few things where, if you wanted to do it completely, you had to print it out. The crossword puzze, for example, wouldn't allow you to acually type each letter in the puzzle, but you could type in your answer right beside each clue.
What I like...
Well, first of all, I liked everything that John Allen liked. I'm glad that Progeny Press has standards as to what books they use for the unit studies they publish. Seeing the list of novels offered made me immediately comfortable with the company even before seeing a sample of the study. I knew by the list of books that they had the same values that I do and I was not dissapointed. I also liked the PDF format. I am a firm believer in making sure that my children know how to write, but every once in a while they need a break from the pencil and paper. This provided one.
Another thing that I liked was that Progeny Press suggests using most of their study guides in ten week segments. This is not a quick unit study type thing. They are really thorough. If you are looking for a short literature unit study that you can do in a couple of weeks then this may not be for you. Off course, you could purchase one of their unit studies and adapt it. Homeschoolers are good at that and the Progeny Press unit studies are very adaptable.
Finally, I liked that this study was, as I mentioned above, thorough. It is not just a simple "so, what did you think of this book" unit study. It involves many different subjects and many different learning styles. It has the usual things that a unit study of this type has...vocabulary, reading comprehension, etc. but it also delves into creative writing, analyzation, history, Bible, and more. Now, having said that, I have to mention that The Bronze Bow lends itself to Biblical questions. Even though Progeny Press is a Christian company, I'm not sure how much Bible is in the other literature studies, but, other TOS Homeschool Crew members reviewed literature unit studies for other books and you can find out what they had to say by clicking here. Suffice it to say, though, that I was really impressed with the different subjects that were covered and the way they were covered. This isn't just a "fill in the blank" type unit study. It utalizes a lot of different methods. The crossword puzzle that I mentioned above was one of them but there was also other puzzle types as well as multiple choice problems, writing assignments, and other creative ways to keep the student excited about the study guide and the book itself. It did have some fill in the blank type things, but it certainly was not boring.
So, how much are these wonderful studies? Well, they probably aren't as much as you think. The Bronze Bow study guide is just $16.99 for a CD or a downloadable email attachment. If you don't have a computer that you can use, or if you just like paper copies, you can order the booklet for $18.99 or even a booklet and CD combo for $23.99. If you would love to do a unit study on a book that you don't own, Progeny Press even sells some of the books that they produce study guides for. I didn't click on every single study guide, but it looked like the other prices were very comparable. To find out what study guides that Progeny Press offers just click
here
or on any one of the hi-lighted links above. Happy Home Educating!
As a member of the TOS Homeschool Crew I was sent a free download of the study guide for The Bronze Bow in order to try out and give my honest review on this blog.