It happens all of the time...
A young boy does an innocent search on his computer. When he opens one link he gets an eye full of some not so innocent pictures.
An impressionable girl thinks she is chatting with someone she knows. Unbeknownst to her it really isn't a friend.
Or in our home it might be...
A child sneaks on the computer when they are supposed to be doing schoolwork or, perhaps, even sleeping!
Things like the above happen. They have happened in my household...and I'm not talking about just the last example. Many times there are safety features built into you computer that you can use. But, many times those safety features are very difficult to use if you can even figure out how to set them up. Then, there are the products on the market made to help with these type situations. Some do what they claim and some don't. We have tried many of them and couldn't seem to find one that we liked.
Recently, as a member of the TOS Homeschool Crew, I was given the opportunity to review
Action Alert
and found that it is the best that we have tried yet. It has some amazing features. Let me show you a list of some of them and then I'll talk about our experience using this program.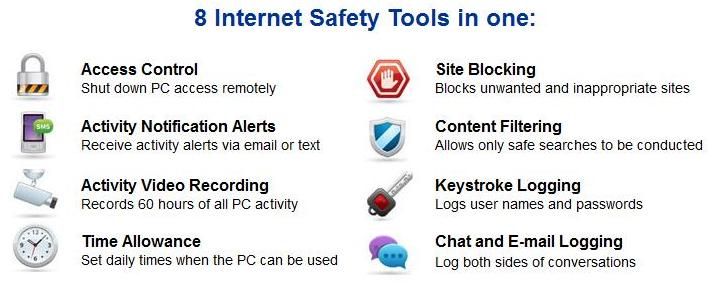 As you can see there are several fascinating features on
Action Alert
. Some I have never seen before. They have the usual tools such as Site Blocking, Content Filtering and Keystroke Logging but there were a few tools that I thought were really neat.
Access Control allows you to access your PC remotely - even by cell phone - to see what is going on. If you don't like what you are seeing, you can shut down your PC.
I really liked the Activity Notification Alerts. If there is activity that seems unusual or suspicious, then an email is sent to you with details. This works even when your child is doing a search. I must warn you, though, that it is extremely sensitive. A few times I received an email that one of the boys had done a search that contained the word "a**". You know, as in another name for a donkey. When I asked him about it, he was adamant that he hadn't searched for anything like that. I was inclined to believe him. He plays several online games (all approved by me) that have acronyms and strange words in them. I don't know if Action Alert could have picked one of them up and thought that he was searching for something different or not. So, how can be so sure that he wasn't searching for that? Because of the next feature that I think is one of the neatest.
It's the Activity Video Recording feature. You can actually log in to the easy to use parent dashboard and watch everything that has happened on your computer for the past 60 hours! You are shown a video (that thankfully goes a little quicker than real time) so that you can see what your child (or you) have been up to. You an easily see what websites have appeared, games they have been playing, chats they have been having. You name it, you can see it. It is really a neat little feature.
Then there's the Time Allowance and the Chat and Email Logging feature. The Time Allowance allows you to set how long you want your child (each child has his own password) to use your PC. The Chat and Email Logging feature does just that. Logs all of your child's online chats and emails.
So, with all of these features you must think that the price would be "out of this world", but how does FREE sound to you?!? Well, you an actually get a limited version of Action Alert for free. There is also a maximum version for just $29.99. This program is by far the most comprehensive internet protection program that I have seen. Just click
here
or on any one of the hi-lighted links above to find out more. Other members of the TOS Homeschool Crew reviewed Action Alert and you can find what they thought by clicking
here
. Happy Home Educating!
As a member of the TOS Homeschool Crew I was given a free download of Action Alert in order to try out and give my honest review on this blog.