When I was growing up I lived in the mountains of Pennsylvania. Then, for 19 years I lived in Florida and loved it. About 19 years ago, however, we moved to Tennessee and I found myself back in the mountains. I do love the mountains and, one of our favorite places to go as a family is to the Great Smoky Mountain National Park. We have so, so many great memories from our trips their over the years. Unfortunately we haven't been able to go back for the past couple of years. When I found out that we were going to be able to review Smoky Mountains ~ Here We Come! from the By the Way Book Series I was really excited. I was hoping that this would be a great "reintroduction" to the park for us and I was not disappointed. It has turned out to be that and much, much, more!
You might think that the By the Way Book Series is all about travel and the interesting things that you would see when you went to see the exciting places and states that are featured in these books. However, as I mentioned above, they are much more than that. Smoky Mountains ~ Here We Come! Did talk about the exciting places that are featured in the national park, but it also was filled with history, nature, science, all while giving the readers (and listeners) a Christian World View.
And, the story is so interesting! Lexi and her brother Alex have been dropped off to stay with their Uncle Ted for a few days. Uncle Ted is a park ranger for the Great Smoky Mountain National Park. Boy what a three days it ended up being! Now, you may think that, based on the story line and great illustrations, this book would be geared toward young children. Actually, though, it is recommended for the whole family and I really learned a lot! Through their adventure of learning about such great areas of the park as Cataloochee, Abram's Falls, Cades Cove and Cherokee, I learned the history of the Indians that used to live in the area; I learned about the Civil War; I found out fascinating things about the Appalachian people that lived their; and, of course, I learned the history of the Great Smoky Mountain National Park as well. And those are just a few of the historic things that you will find in this little short 48 page book!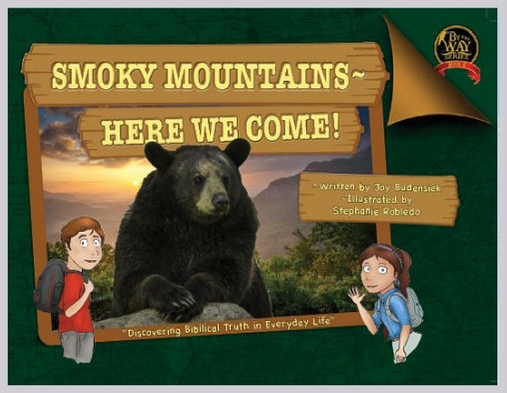 But that's not all! The nature studies are fascinating. The author of the series, Joy Budensiek, not only tells you about the great God made things that you will find in the area, but she weaves interesting facts about them as well. We learned about Salamanders (did you know that the Smoky Mountains have more species of salamanders than any other place in the world), we found out about fireflies, we discovered interesting facts about the different types of trees that live in the park, and, of course, the bears, deer and elk!
But that still isn't all! There are other tidbits thrown in like learning about geocaching and the dulcimer (one of my favorite instruments ~ can you convince Sarah to get me one?). My favorite part would have to be that through all of this God, a Christian worldview and faith are intertwined. Often it is without you even really realizing it.
I loved the verses that are very timely and appropriately put that point the reader and listener to God. My kids loved the fascinating "Did You Know" sections. We all loved the great things that we never knew about some of the places that we have seen over and over again and love very much. This book was excellent.
As you can see we loved Smoky Mountains ~ Here We Come! We can't wait to try some of the other books in the By the Way Book Series. We're thinking about the Pennsylvania one next. Or maybe the one about Colorado since we've always wanted to go out west. Oh! And the Florida one looks interesting since I lived there for all of those year. Ugh! I digress! Anyway, click on any one of the highlighted links above to learn more about all of the fantastic and educational books in this series (with more to come)! Many of the other members of the Homeschool Review Crew reviewed different books from this series and you can find what they had to say by clicking on the banner below. You can also check out the By the Way Book Series on Facebook by clicking here. Happy Homeschooling!