I grew up in a great little town that, thankfully, knew that it was important to fund the arts in their school system. Probably not enough funding, but they did fund it and the teachers were great. I was always involved in music so I remember those teachers much more than the art teachers, but there is one middle school art teacher that really stands out in my mind. Mrs. Howell was a great teacher that really made art exciting. That was really the only formal art education I ever received. I never took art in high school or college, but to this day I still love and appreciate art all due to that dear and dedicated teacher.
Because of my appreciation of art, I have always wanted to find a good art program for my kids to use in homeschool. Although I love art and am okay at drawing, I would be a terrible art teacher. So, when I found out that we were reviewing the
Entire Level I
online art program from
ArtAchieve,
I was excited. Finally a good art program for the two youngers!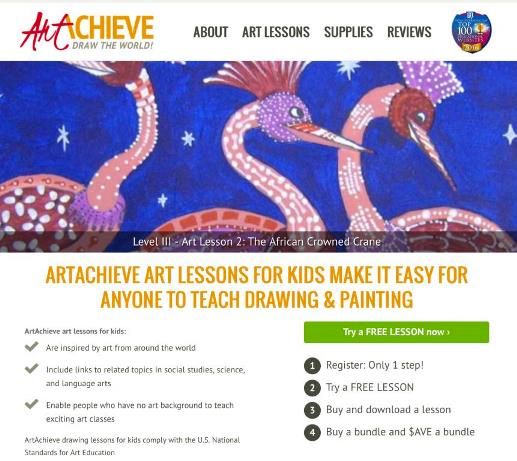 We began with some simple lessons that taught the basic way to draw and how to shade but the real fun begins with lesson two which just happens to be free lessons that anyone can download then we advanced to other lessons. There are quite a few free lessons that you can download after a simple registration. After a child has done the free lessons and you can evaluate what level you think that they can handle, then you can choose one of the three different levels and either download individual lessons with a small fee for a one year license, or you can download the entire level which is cheaper than downloading all of the lessons individually.
We were given the
Entire Level I
package to use for free and as soon as I opened up the first lesson on the Czech Cat I was impressed. Each lesson is taken from an art object, building, or something from around the world. Even before you buy a lesson they describe it fully, tell what you will need and about how long the lesson should take, describe the object that you are drawing and where it came from AND (this is what really sold me on it) they give complete cross-cultural lesson suggestions with links to websites, reading material and more for several subjects. The Czech Cat lesson has suggestions and links for Geography, Literature, Science and Writing. Wow! There was a link to a fantastic website on the Czech Republic and another link to a special hotel just for cats in the Czech Republic - we laughed hysterically at the hotel - and those two sites were just two sites included in the Geography part! There were many more selections included for other subjects. We are geography buffs so this was worth it all for us, but I digress. *smile* Back to the
ArtAchieve
Review!
My computer recently crashed so I am on a borrowed computer.
When I get my new one the above picture will be replaced with on of Joshua's creations!
After you check out those items and get into the art lesson itself you'll find out that the art lesson is just as fun. With most lessons that we have checked out so far you either have the option of doing the lesson via Power Point or with video. I have checked out both and they are both wonderful. I kind of like the video better because it actually has an instructor with a super calm and kind voice that takes you through the lesson. Again, everything that is needed is included at the beginning of the video and, after each step, you are encouraged to stop the video to give you time to complete the work. I said earlier that everything is online, but there are a few things that you need to print out ahead of time. Usually it is a simple warm-up activity and an outline picture of the actual thing that the student is going to be drawing. For the Czech Cat project, we printed out a warm up activity that included the six different types of lines that a person uses when they draw a picture. This warm-up was of six different boxes with lines in them and a blank box below. All we had to do was copy the lines that we saw above in the boxes underneath. Did you know that all pictures use only six different types of lines? Isn't that amazing? But I digress again. Can you tell I'm excited.
Everything the student does is to be done in silence with calm music in the background. The music is to put the student in a creative mood while the silence (except for the music of course) is required in order for the student to concentrate. As I mentioned before everything is explained step by step. For the warm-up and the basic drawing step of the Czech Cat, the student is encouraged to use a fine tipped permanent marker. I questioned the use of the marker at first, but it was explained that this forces the student to think before he draws and not to keep erasing and erasing until everything is perfect. The instructor explained that not even a professional artist likes everything they draw and usually you won't be happy with your picture until everything is done anyway. After the outline of the cat was drawn step by step, we were encouraged to choose five colors of colored markers and, again, step by step we were shown how to fill in the outline. We were to be creative and did not have to do it exactly like the instructor. Then you can even take a picture of your masterpiece to upload and send to them in order for them to put on their website! Okay, you might think that with all of the step by step stuff that the video would be super long. In fact, it was less than 25 minutes long to watch. Of course, since you have to pause to do your own work, the actual project will take longer, but there are natural breaks where you can stop and then continue another day.
As you can see, I am really impressed with this program. I am also impressed with some of the things that I didn't go into much detail about like how to keep art fun and not stressful for a child. That is a big thing with our autistic boys. If they get too stressed it could lead to a melt down. So far, no meltdowns yet with this program! I am also super impressed with how they use objects from around the world. This is truly not just a learn how to draw class but an art appreciation class as well. I was also pleased that most items needed were either around the house or could be bought easily. We can't wait to explore some of the other lessons that we haven't done yet! This is a keeper!
To find out more about this great curriculum from
ArtAchieve
just click on any of the highlighted links above. To see what other crew members had to say about this level and other levels from
ArtAchieve
click on the banner below. Happy Drawing!