At first glance, after reading the post title
Growing up Wild
, you might think by the title that this post is going to be about the Tinkel boys
! I can definitely see why you might think that. However, this is about another fantastic missionary family that just happens to have the last name of "Wild". Before I talk about them, though, let me just cut to the chase with no fluffy opening like I usually write.
Although I am a big softy, homeschool materials aren't usually items that bring me to tears. This one did! You see, Sarah and I, even before we got married, prayed about what God would have us do with our lives. Even before marriage, I thought that God might be leading me onto the mission field. Sarah had a similar vision for her life so, after marriage, we prayed that way. We always thought that God would place us on the foreign mission field but, instead, He chose a small town in Tennessee for us to minister to low income folks. Perhaps it was because He knew we would have three very unique sons, two of which are on the autism spectrum. Whatever the reason, we are content with what God has given us.
That doesn't stop us from dreaming about the future and what God might have us do in our later years. We still have a burden for lost souls all over the world. These verses from Romans 10 still stir our hearts:
14 But how can they call on him to save them unless they believe in him? And how can they believe in him if they have never heard about him? And how can they hear about him unless someone tells them? 15 And how will anyone go and tell them without being sent? That is why the Scriptures say, "How beautiful are the feet of messengers who bring good news!"
Those verses were verses that God used to stir the hearts of Mike and Elizabeth Wild and eventually lead them to minister to a remote tribal group in Papua, Indonesia called the Wano people. While there, they began filming their four sons and the many adventures they had as missionary children growing up in a foreign land. They explained that at first, it was just a creative outlet during their spare time. Soon, however, they began to wonder if there creative endeavor could actually be used as "a tool to influence an army of future missionaries that would take the Gospel to the remaining unreached people groups of the world." That is how
Growing up Wild
began.
Growing up Wild is really very simple. The Wild parents filmed their four boys learning about the different world and culture around them, ministering, going about their daily activities, and just having fun. They then took those many home movies and made 15 short lessons with activity suggestions for each.
I think that the first thing that caught my attention was the beautiful music that was composed just for this series. Then, how can I not mention the awesome scenery that is in each episode. We received Volume One and Volume Four of the five volumes of Growing up Wild that have been produced so far.
Home Sweet Hut - discusses homes and family life in the Wano tribe, how the Wild brother's home is different than a regular Wano home, and how it is different than the typical home in the United States.
Supply Trip - talks about how living in a remote location makes it challenging when it comes to shopping for every day things. You can't just hop into a car and drive to the local Wal-Mart. Instead, you must plan for months in advance and shop for supplies that will last for a long time.
Sun and Water - teaches how they have learned to harness the sun and water to become useful things for the Wild home.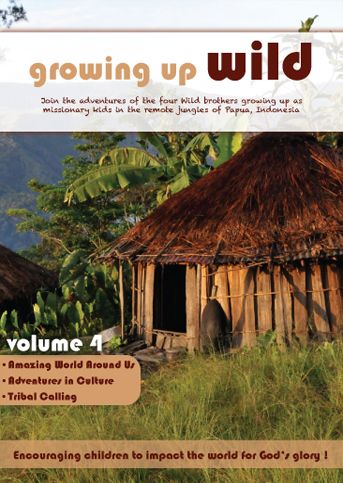 Amazing World Around us - talks about the different mammals, reptiles and insects that you find in the jungle.
Adventures in Culture - describes how different the way of thinking and the way of life is in the Wano tribe. WARNING - this episode includes a scene where two of the Wild brothers get their noses pierced!
Tribal Calling - describes how God called the Wilds to work with the Wano people.
Each episode is fascinating and very well done. The activity guides, included on a separate DVD, are equally as well done. I love the way the Wild parents have weaved different school subjects into the activity guides. You might be drawing the world around you as one activity, filling in a Ven Diagram in another, or encouraged to talk to an elder in another. My boys, especially Joshua have absolutely loved all of the episodes. Although we have watched each one, though, we have only worked on the activities that are included with volume one so far. We can't wait to delve into the activities that will be included in the fourth volume.
Every one in the Tinkel family would have to give
Growing up Wild
10 thumbs up (two for each member of the family!). We really did love each episode. It makes you want to jump up and go to live with, work with and minister to people of another culture. The episodes are fascinating, educational and heart stirring all in one. You can really tell that the Wild family has a heart for the Wano people. Oh that God would give us all the same types of hearts for the people around us. Hearts that love and accept people even when they are different than us and long to teach those people about the saving grace of Jesus.
I don't think that I have ever been more serious than this. You really need to purchase these videos for you children. At $18.99 for each volume separately or $80.99 for the entire set, they are very affordable. I can't wait until we receive the other three volumes to complete our set. Just click
here
or on any one of the hi-lighted links above to learn more about how to buy these awesome videos.
As usual many of the other TOS Review Crew members reviewed Growing Up Wild and you can find what they had to say by clicking
here
. Happy Home Educating.
Disclaimer: As a member of the TOS Review Crew I received Vol. 1 and Vol.4 of Growing Up Wild for free in order to use and give my honest review on this blog.