Yep, you read correctly! Just call me a slacker. Once again I'm handing a review off to my wife. That's twice this year! Once a couple of weeks ago on another review and now on this one. Before you begin to stone me, though, maybe I should explain.
I am the main homeschooler in our home. I am responsible for John Allen, our oldest in high school and for Joshua our asperger's syndrome 11 year old in elementary school. Sarah, though, has always been gracious in helping me and she has always been the one to teach the boys when they are in kindergarten. Last year we tried to begin our youngest, Jacob, in kindergarten but found out after a few weeks that he just wasn't quite ready. We continued to work with him a little bit but nothing full time. This year, however, we knew he was ready and were overjoyed when we found out that we would be reviewing
EIW's (Excellence in Writing)
new
PAL (Primary Arts of Language)
program for kindergarten through second grade students. We have reviewed EIW's excellent writing program with my oldest and it is one of those "keepers". "Keepers" are the review items that we keep on using even after our review time is over. With the dozens of items that we have reviewed over the years, trust me, if an item is a "keeper" then it has to be good.
So with EIW producing one "keeper" for us then we had high expectations for their new
PAL Program
. However, since, Sarah is the main person who used it with Jacob, I am going to do one of those question and answer "reporter on the street" type reviews. I'll ask Sarah a question, and then record her answer. Here goes!
What items did we receive to review?
I can answer this one without my dear wife's help. We generously received everything in both the PAL Reading Program and the PAL Writing Program. Here's what's included with each (copied from the website because, after all, I am a slacker
and didn't want to type it all out!
):
The Primary Arts of Language: Reading Complete Package
includes:
Primary Arts of Language: Reading Teacher's Manual
Primary Arts of Language: Reading DVD-ROM
Includes the following:

Instructional Video by Jill Pike
The Four Language Arts MP3 Audio by Andrew Pudewa
Nurturing Competent Communicators MP3 Audio by Andrew Pudewa
Poetry as an Integrator MP3 Audio by Anna Ingham
Intro to the Blended Sound Sight Program MP3 Audio by Anna Ingham
Primary Arts of Language: Reading Student Book (e-book)
Primary Arts of Language: Phonetic Games
The Primary Arts of Language: Writing Complete Package
includes:
Primary Arts of Language: Writing Teacher's Manual
Primary Arts of Language: Writing DVD-ROM
Includes the following:

Instructional Video by Jill Pike
Reading Comprehension MP3 Audio by Adam Andrews
Dictation, Narration, and Public Speaking MP3 Audio by Andrew Pudewa
The Four Language Arts MP3 Audio by Andrew Pudewa
Primary Arts of Language: Writing Student Books (e-book)
All About Spelling Basic Interactive Kit
All About Spelling Level 1 (Teacher's Manual and One Student Material Packet) By Marie Rippel
Bonus e-audio downloads:
Units 1 & 2 in the K–2 Classroom MP3 Audio by Shirley George
Unit 3 in the K–2 Classroom MP3 Audio by Shirley George
Preparing the K-2 Writing Environment MP3 Audio by Richelle Palmer
Is it quality made and attractive looking material?
The material is very well made and looks very attractive. It is not cheaply made at all. The covers of the books were glossy, sturdy covers and the disks were professionally made. EIW is not a fly by night company. Even the things that are printed out look great and are appealing to the child.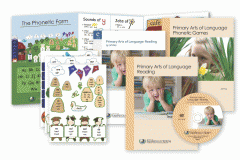 How easy is it for the teacher to get used to and use program?
It took a little bit of getting used to but after you got used to using the material and the way it flowed it was very easy to use. It was almost like a "curriculum for dummies"! All you have to do is follow what it says. Everything is explained very well and the lesson plans are presented and explained well. However, ease of use does not mean that it is a skimpy program. It is very thorough and well planned out. You can tell that the authors of the program did their research. And, they weren't afraid to pull in other sources that complimented their program like the
All About Spelling
program.
Is there much preparation?
There is some preparation but not an overwhelming amount. There are games that have to be made and some pages that need to be copied but everything is included in either the large spiral bound teachers manuals or on the CD's. The games are a very important part of the curriculum. They are "file folder games" that I just copy from the huge game book. After mounting the game on a regular file folder I laminate it using contact paper. Once the original game is made then you add the small pieces. You add pieces to the games almost every day because each day builds on the previous day.
.
Tell me about a typical day using
EIW's PAL Program
.
They always start the day with a poem or reading. This program is very phonics oriented. However, where some programs start out with the child learning the vowel and consonant sounds, this program has the child learning consonant and vowel blends. After learning a blend, you play a game that reinforces the sounds learned that day.
Later, I read a story and ask questions about what I just read. This makes them use thinking skills, reasoning and helps them with listening comprehension.
This program really appeals to different learning styles. Each day there are tactile activities, listening activities and visual activities. Jacob may write letters on a wipe erase board one day but then make them using shaving cream on a table the next day. Some days may include cutting and pasting activities as well. Almost every day there is a worksheet that reinforces visual skills. However, these aren't disjointed activities, they all have something to do with what is being learned that day and each day builds on what was previously learned.
Also, the curriculum is designed so that if a child is having difficulty with a concept or is getting frustrated, you can just stop and pick it up again the next day. The program is very flexible and not rigid whatsoever. You can go as quickly or as slowly as you and the child needs.

Is Jacob learning and does he enjoy it?
Yes! We have tried other things with him and this seems to be the one program that fits his learning style and needs. The other programs have been good programs, but for some reason this one really clicks with him. He loves making the "squeally e" and other sounds, and he loves playing the games. Feeding "Mugs" his bones is one of his favorite activities. Placing the stickers on the "Phonics Farm" folder is also a highlight of the day. The tactile activities are also some of his favorites. Writing on the wipe erase board and with shaving cream has helped him use his large motor skills and also learn his letters.
Do you like it?
I love using it. It is very easy to use and is fun not only for the child but for me as well. I enjoy watching him play the games and spending time with him. It isn't a battle or a struggle to get him to work because he really enjoys it. When the child enjoys a curriculum it is so much easier for the teacher to use. We haven't used many of the readers yet, but what we have used is very entertaining and fun. We also aren't far enough into the curriculum to have used the
All About Spelling
books but we have used that before with Joshua and I know Jacob is going to enjoy it as well.
Overall what rating would you give
EIW's PAL Program
?
We absolutely love this program. There are not enough thumbs-up or stars to give this program. It is definitely a keeper.
How much does all of this cost?
Well, I can go ahead and answer that one as well. Believe it or not, the Primary Arts of Language: Writing Complete Package is just $89 and the Primary Arts of Language: Reading Complete Package is only $69. Trust me, I have reviewed a lot of things and been to homeschool conventions and priced a lot of other packages and these are great prices. Just click
here
or on any one of the hi-lighted links above to find out more.
As usual, many other members of the TOS Review Crew reviewed the EIW PAL program and you can find what they had to say by clicking
here
. Happy Homeschooling!
Disclaimer: As a member of the TOS Review Crew I was sent Excellence in Writings complete Primarey Arts of Language Writing Program and Reading Program in order to try out and give an honest review on this blog.