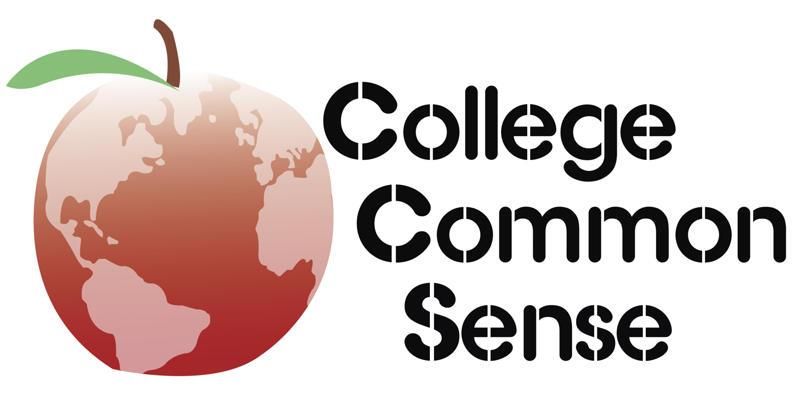 While reading through some of my notes for this review I was reminded of something. Children grow up too quickly! I can't believe that my John Allen is actually 16 and in tenth grade. It just seems like yesterday that he was born. We have been through so much together, from a very frightening bout with a rare childhood eye cancer to being the older brother to two children on the autism spectrum. John Allen has sacrificed much. Through all of our challenges, I have neglected something that was very crucial - getting him ready for college. Oh, I'm not talking about in the academic sense, although, like many teenage boys he would much rather be playing video games than doing his homeschool work. No, I'm talking about getting ready to enter college, and then pay for college once he got in. That's why I am so glad that we were chosen to review the
Going to College and Paying for it Online Video and Workbook
from
College Common Sense
.
Usually with the TOS Review Crew we review homeschool curriculum. However the
Going to College and Paying for it Online Video and Workbook is not really a curriculum. Although it has weekly "lesson plans", and, I suppose, could be used as an elective, I would consider it more of just a a common sense approach to making sure that your child has enough money for college that could be started as young as elementary school. Of course, where else would you find a common sense approach than College Common Sense?

This curriculum was originally written only for high school students, but as the author became more aware that children and their parents need to and could begin preparing much earlier she revised it to be for children in their elementary, middle school or high school years but still focused on children who are in 9-12 grade. Although there are some free things that College Common Sense offers to go along with Going to College and Paying for it Online Video and Workbook, the videos and workbook are the main items and provide plenty of information, advice, assignments and college preparation checklists to last provide you with all of the things needed to ready a student for their college experience. The free weekly lesson plans are extras that are not needed but very helpful.
Let me say before I even begin that this video and workbook is very well done and very thorough. I went to a small private college that was two miles away from my home. I was blessed to not have to look far for a college that had the major that I wanted. I was also blessed to have a well paying job while going to college that allowed me to work my hours around my school. I didn't have to go through a lot to decide what school I wanted to attend and how to pay for it. Times have changed, however, and colleges are much more competitive and expensive than they were in my day. I couldn't imagine trying to navigate my way through this complicated system today. I am so glad that this video and workbook are here for my children.
There are six segments to this video that must be watched. They cover everything that you can think of that pertains to choosing a college and preparing to pay for college. Each segment goes step by step into what you must do to complete the task has to be done to navigate the college preparation waters successfully. The workbook recaps what the author has said in the video and gives additional assignments.
I mentioned before that the author had originally written this for high school and college age students but had realized that much can be done to educate and prepare younger students so she revised it to include younger students as well. The suggested assignments are letter coded as to what aged student it would best benefit. Of course, many of these things aren't just suggested assignments, but things that must be done before you enter college. They are steps that you must go through in choosing and applying for a college as well as applying for scholarships and financial aid. However, this isn't just a step by step guide in how to fill something out. The author goes in to detail about what a student should do to make his chances of acceptance into the college of their choice or win the scholarships that would help them pay for their college experience. Many of these things must be done no matter what. The sooner you get started on them the better, but they must be done. Of course, a later elementary aged student will probably just watch the segments in order to begin their thoughts about what they may want to do in life and what needs to be done in the future to accomplish that goal. There are many things, however, that a middle school student can begin to do and those things are pointed out. While it might be true that the sooner a student begins working on these things the better, the author also points out that it is never too late to start. Even a senior in high school and, dare I say, even a student already in college can benefit from this video and the accompanying workbook.
The video/workbook segments with a brief explanation of each are as follows:
The Big Picture - gives a student...well...The Big Picture as to what they must do to select, apply for and pay for college. It goes in to detail about what must be thought about in selecting a college and provides links and assignments to help a student compare colleges and visit college campuses.

How Financial Aid Works - describes the often complicated and rough waters of what must be done to obtain money to help the student pay for college. It, again, gives many links and goes into great detail about

FAFSA (the free application for federal student aid).

All About The Free Money - goes in to detail about the many different types of scholarships and grants that a student can receive. It talks about the lingo that is used and what must be done to obtain the money being offered.
The System That Works - I was going to try to abstain from adding my views into these brief descriptions and save my views until later, but I must say that I love this segment of the video and workbook. It is a fantastic method for applying for scholarships. It is a step by step system in how to apply and win scholarships. I am so glad that we were given this video/workbook to review. This segment is worth the price in and of itself.
You In the Process - gives a recap of what has been talked about so far and gives pointers as to how to keep out of debt and what to do if you do go in to debt while in college. Again, there are many wonderful suggestions and assignments to help you prepare for your college adventure.
Pull It All Together - gives some final suggestions and encouragement that wraps up everything that you have learned.
The segments mentioned above are short - the entire time to watch them is about 2 hours - but they contain so much valuable information. There is so much that a student must learn to prepare for college in this day and age. These videos explained things and helped tremendously.
I must add a brief note. I mentioned that the workbooks give students many assignments. Many of these assignments are suggested to help the student find a career path and find the right college. The author notes that while all of the assignments are valuable, a student isn't expected to do absolutely everything. Even some of the major things listed are dependent on what type of major the student is going to have, what college they are going to go to and what type of scholarship that the student is applying for. There are some critical things that every student should do, however, and those things are pointed out in the texts.
John Allen and I give the
Going to College and Paying for it Online Video and Workbook
from
College Common Sense
two thumbs up! I feel like this is a must have for any student who is even thinking about going to college. The sooner you get it the better!
This program comes in two forms. The first is the online program which is what we reviewed. The cost for it is only $25 for 12 months of access to the online videos and downloadable workbook. You can also purchase a DVD of the video and workbook for $50 plus $5 shipping and handling. You can find more about this excellent program and how to purchase it by clicking here or on any one of the hi-lighted links above.
As always, many other reviewers from the TOS Review Crew reviewed this item and you can find what they had to say by clicking on the banner below. Happy Homeschooling!