A couple of years ago Joshua and I had the great pleasure of reviewing Song School Latin by
Classical Academic Press
and absolutely loved it! When the opportunity came up for us to review their
Song School Spanish
program, we jumped at the chance. I was just heard someone say today that children have an amazing aptitude for learning languages and that their younger years are the best time for them to learn a new language. We love learning languages in our household and
Song School Spanish
makes it easy and fun.
Many of you know that Joshua is on the autism spectrum. Autism spectrum kids often will go through periods where they will grasp on to something and want to learn all that they can about certain subjects. They are often called "little professors" because they become very knowledgeable about those things. Recently, Joshua has become very interested in languages, especially Spanish. It hasn't reached the "little professor" level yet where he wants to learn everything he can about it, but we are praying that it does.
Song School Spanish
is written in such a way that it has the potential to take him to that level. Although it is recommended for ages K-3, and he is listed on the 4th grade level, it is really perfect for him. I think it would be perfect for his younger, kindergarten age, brother as well and plan on starting him with it soon.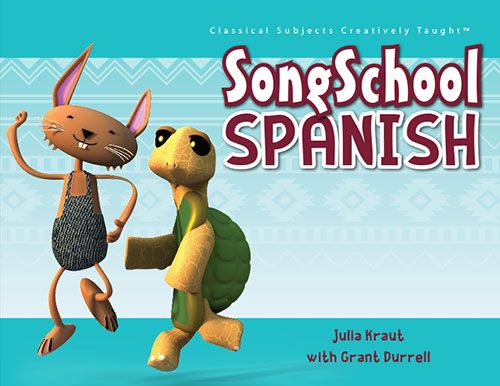 In reality, both Joshua and I like
Song School Spanish
by
Classical Academic Press
. Let me explain what each on of us appreciates and enjoys about it.
What Joshua Likes:
Let's go with the obvious first.There are a few things that
Classical Academic Press
puts in to their younger age geared language programs that make it really appealing to kids. I think the number one thing that Joshua likes is the really fun songs that go along with all of the lessons. After all, this is called
Song School Spanish
! Bound in to the big 173 page student book (pictured above) is a song cd with over 44 songs on it. From the very first lesson, in fact it's the very first thing that you do, students are introduced to songs that reinforce the lesson for the week. These songs are fun and often use the tunes and words from other popular children's songs like - "If You're Feliz and You Know It". Other songs are original songs that help them learn the words or phrases for the lesson. Each lesson has at least two and often three or more songs that go along with it. I can often find Joshua walking around the house humming or singing the songs that he has learned from his language lessons.
Another thing that Joshua likes is the characters that guide him through all of the lessons. In
Song School Spanish
there is a rabbit character named "Conejo" (the Spanish word for rabbit) and a turtle character named "Tortuga" (the Spanish word for turtle). They are always prevalent in every lesson, but they are there somewhere. Either there is a song about them or there is a picture of them demonstrating what is being learned in the lesson.
Finally, Joshua just loves the lessons in general. They are fun and easy to do. Each lesson is to be done over a week long period. Usually the lesson starts with a "Words to Learn" with several (less than 10) words that they are to learn for the week. The weekly songs are then introduced to help learn the words. Then there are several sections that review what has been learned that week. Always there is a short "Chapter Lesson" section that introduces and explains the words or phrases that the child is to learn; a "Practice Your Spanish" section where you practice writing (tracing) the words or phrases that you learned; and a "Show What You Learn" section where the child answers simple questions about what they have learned that week. Those sections are found in every lesson. Other things that they may have Joshua doing are playing a game, putting on a puppet show, cutting and pasting, or doing some other fun activity that will help him learn the words. Remember, all of these things are to be done over a weeks period. Each child only does one or two sections a day (as well as review the songs) so each days lesson is well less than 30 minutes and usually just 10-20 minutes in length. Every few weeks you will find a review chapter where no new words will be introduced, but the child will review what has been learned in the previous few lessons.
What I Like:
I really like the Teacher's Edition (pictured below). It is very easy to use. It has student book replicated with all of the answers filled in but also includes directions on how to teach or help your child learn certain words and concepts, and also has extra games and things that you can do with your child to help him learn and remember what is being taught.
I also like that this isn't any "fluff" Spanish course for children. You can find what I call "fluff" foreign books and courses all over the place. You know the ones I'm talking about. The first week you learn the numbers one to ten. Then you learn the colors, etc. By the end of the year your child has learned a few numbers, a few colors, the days of the week and the months of the year and everyone feels happy. If that is what you are looking for, then check out some other curriculum.
Song School Spanish
is much more than that. Oh, yes, some of those things are included, but they aren't necessarily the dominant things. For example, Joshua won't learn the colors until chapter 17 and the numbers until chapter 19. Instead, in the first few lessons, your child will learn greeting words, words to help you make friends, question words and phrases, words from around your classroon or home, family and people words...and those are just in the first 9 lessons. By the end of the course your child will not just know his numbers and colors but will also know more complex phrases and words and, in some cases, even sentences. No, he won't be fluid in Spanish, but he will know a lot more than just his days of the week.
Finally, I really like all of the "extras" that are included in
Song School Spanish
. If Joshua wants he can head over to "Headventure Land" where he can find online games and activities to practice his Spanish. When we get his younger brother, Jacob, started, we can download coloring pages that Jacob can color and use to reinforce each lesson. If I can't figure out how to pronounce a letter or a word, I can check out the free pronuciation audio download. There are even bonus songs that can be downloaded or fun " Spanish Amigo Match" cards that can be purchased separately.
We are very satisfied with
Classical Academic Press
and their language programs. This is the second one that we have reviewed and both are quality programs. I would encourage anyone who is looking for a Spanish program for their lower elementary student or learning challenged older elementary student to check them out.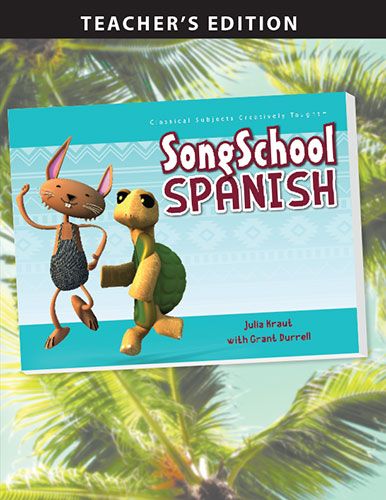 So, after hearing all of my accolades about
Song School Spanish
you might be thinking that this is a really expensive program. Well, not so! The student work book that comes with the CD is only $24.95. The teacher's edition, sold separately is just $24.95. You can buy both in a bundle that includes the Spanish Amigo Match cards that I mention above for just $66.95 (the Spanish Amigo Match cards are sold separately for $26.95. We have reviewed and used a lot of language curriculum in our household and I can tell you that this is a deal! Just click
here
or on any one of the hi-lighted links above for more information.
As always, many other reviewers from the TOS Review Crew used Song School Spanish and other Classical Academic Press curriculum. You can find what they had to say over at the
Schoolhouse Review Crew blog
by clicking
here
. Happy Home Educating!
Disclaimer: As a member of the TOS Review Crew I was sent a free copy of the Teacher and Student editions of Song School Spanish in order to use and give my honest review on this blog. I am disclosing this in accordance with the FTC Regulations.