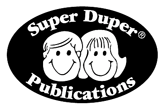 Jeepers, creepers....where'd ya get them peepers
Jeepers, creepers...where'd ya get those eyes
Gosh oh, git up....how'd they get so lit up
Gosh oh, gee oh....how'd they get that size
Songwriters: WARREN, HARRY / MERCER, JOHNNY
I remember that song from long ago! What a fun tune. Unfortunately my kids have probably never heard of that song before. They
have
heard of an amazing game, though, that shares a very similar name. It's called
Jeepers Peepers
and it's made by a great company by the name of Super Duper publications!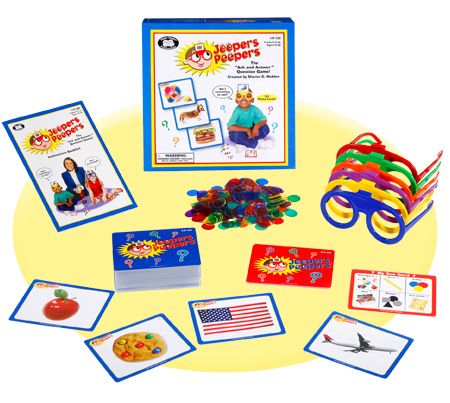 When I first saw this game I knew it would be a great fit for our family. The description on the Super Duper Publications website says that
Jeepers Peepers, The Ask and Answer Question Game
- "builds questioning skills, describing skills, categorizing skills, problem solving skills, and more!" And, although it can be played with children as young as Kindergarten, I really felt like this would be a game for Joshua. I was not mistaken at all. Joshua loves it! What I was pleasantly surprised to find out, though, was that Jacob and John Allen (yes I said my 16 year old John Allen) loves playing it as well. For that matter, I even enjoy playing
Jeepers Peepers
.
You've probably played something similar as a party game. You know. One of those games where everyone has a piece of tape attached to their forehead with a famous person's name on it. Or maybe a piece of paper taped to their back. The player doesn't know what name is taped to him. He has to go around asking yes or no questions in order to figure out who it is.
Jeepers Peepers is very similar only you wear a pair of plastic classes that also acts as a card holder. The player wears the pair of glasses that has a card with a picture on it attached to the glasses. Take a look at this picture of my three boys wearing the glasses and I think you'll get the point.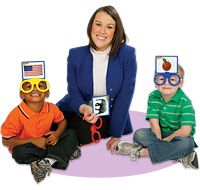 No, these are not my boys. Due to technical difficulties I was not able to post a picture of them YET. Check back soon, though, and I'll have one posted!
The game play can be either easy or challenging. The game time can be short or long.
Jeepers Peepers
comes with six
Jeepers Peepers
Glasses, six "My Cue Cards", 101 sturdy Photo Cards, some Bingo Chips and a spinner. For the basic play you just put a picture card in a pair of glasses, put those glasses on someones head, and they begin asking yes or no questions until they can guess what picture is on their card.
If you have a child that can't think of what to ask, they can use their "My Cue Card" to help them think of a question. The "My Cue Cards" have picture cues on them such as a picture of a ruler to prompt them to ask a question about size - "Is it bigger than a car?" or "Can I hold this thing in my hand?" - or a picture of a map to remind them to ask about where this thing is located - "Would I find this thing in the house?" or "Would I see this thing in the wild?" and so on.
If you want to play a long game you can use the chips and spinner. When someone guesses correctly he spins the spinner and collects that amount of chips. After a pre-determined number of rounds, the players count their chips and the one with the most is the winner.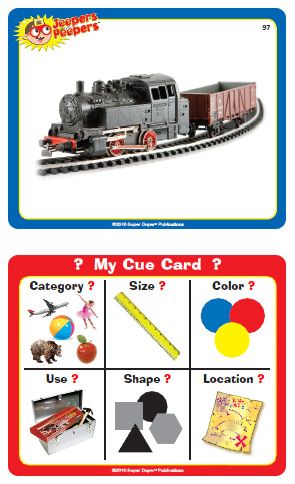 There are so many different variations to Jeepers Peepers that your children will never get bored. We actually play in the car! The kids put on a pair of glasses with a card on top (sorry, I don't wear the glasses but my card is put behind my headrest - and all of the kids turn to me at the beginning of the game so I can quickly glance in the rear view mirror to see the picture on their cards) and we take turns asking and answering questions. It makes the time on a long trip go by quickly! We love it.
Here's where I've seen it help my children. Joshua has learned to categorize things. He's learned critical thinking. He's learning different cues to help him remember the answers to questions he's already asked. Jacob has learned how to ask yes or no questions (yes, believe it or not that is a challenge for him). He's learned self-control by not blurting out the answers. And, yes, he's beginning to learn all of the same things hat Joshua is learning only on a much more basic level. John Allen is learning patience. By playing an actual critical thinking game with his brothers, he's learning what kind of learning difficulties that his brother's have and learning how to help them.
Me? I'm learning how to have fun with my kids once again. When you are the parent of disabled children, then you sometimes get so wrapped up in the therapies and teaching of those kids that you forget to take some time just to have fun with them. Jeepers Peepers has helped me to relax and enjoy my children.
So, where can you find
Jeepers Peepers
? Well, just click
here
or on any one of the hi-lighted links above to get to the Super Duper Publications web site. The game normally sells for $29.95 but Jeepers Peepers (I had to do it!) do I have a deal for you! From now until August 31 of this year if you use the coupon code -
BLGJP30 - then you can deduct 30% off of the price of this award winning game! Trust me. You won't be disappointed. We love it.
Other members of the TOS Review Crew reviewed other items from Super Duper Publications and you can find out what they have to say by clicking
here
. And I think they have coupon codes too! Happy Homeschooling!
Disclaimer: As a member of the TOS Review Crew I was sent a free Jeepers Peepers game in order to try out with my family and give my honest review on this blog.